80 Acres Farms in Cincinnati is changing the way the world eats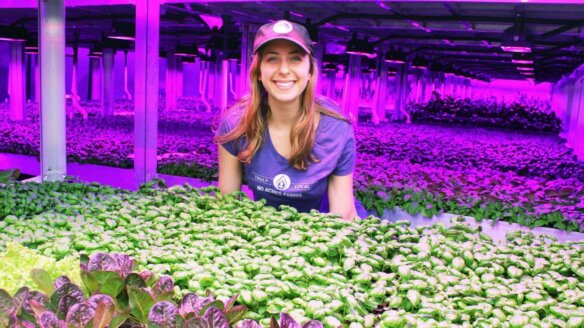 80 Acres Farms provides accessible, nutritious, tasty and affordable produce in areas where people cannot grow produce year-round themselves. At the innovative farm you don't find tractors, silos or even soil. Instead, 80 Acres grows everything indoors – using robots and AI to grow the freshest food possible for local people. 
"We have really corrupted our food supply chain", says co-founder, investor and indoor farmer Mike Zelkind. "You cannot transport food 2,000 miles and still have it come to you tasting great. 80 Acres Farms wants to bring a fresh local food supply back to communities, cities and areas to make them self-sustainable again."
In the hearts of neighborhoods across America, we grow shockingly flavorful produce by using 100 percent renewable energy with 97 percent less water and zero pesticides.
High-quality produce at 80 Acres Farms
Delivering fresh food straight to the nearby consumer: Zelkind shows it can be done. "In traditional farming supply chains, produce is bred to survive ultra-long transportation cycles. Produce should be bred for flavor, nutrition, and texture", Mike says. "Due to temperature constraints, a lot of our produce comes from Salinas, California and Yuma, Arizona. With technological advances, including the efficiency of LED lights, big data and all, at 80 Acres we are able to grow outside of these areas and harvest high-quality produce that is completely pesticide-free and nutritionally dense using vertical farming."
Ultra-efficient
80 Acres Farms converts urban spaces into ultra-efficient farms that maximize energy and space. The company has facilities in Ohio, Arkansas, North Carolina, and Alabama, from which it sells leafy greens, tomatoes, micro greens and herbs to national grocers, local retailers, restaurants, and food service providers. It expects to add grapes and strawberries in the near future. "Thanks to super-efficient vertical farming techniques, we produce a lot more in a much smaller space", Mike explains. "About the equivalent of a farm with 80 acres Farms of land, give or take. We grow hydroponically, where only the plant's roots hang out in nutrient-rich water – no soil needed. We're changing farming at the roots – literally."
Food should not be traveling thousands and thousands of miles from farm to customer
Pure and fresh
Crops produced free of pesticides and GMOs, picked and delivered within days. In December 2018, 80 Acres Farms raised 40 million dollars in equity capital to create the first fully automated indoor farm. The facility will optimize every aspect of growing produce indoors, including seeding, growing and harvesting. It will include handling robotics, artificial intelligence, data analytics, and around-the-clock monitoring sensors and control systems to create food that is truly local and honestly fresh, 365 days a year.
Find out more about the mission and vision of Mike Zelkind: 
Keen to find out more about the potential of food producing cities? Watch our free documentary or sign up for our newsletter. Inspiration guaranteed!
Become a Partner City
Is your city facing problems related to food production and livability, and are you interested in solving these problems in a sustainable, intelligent, inclusive and innovative way?
Contact Us