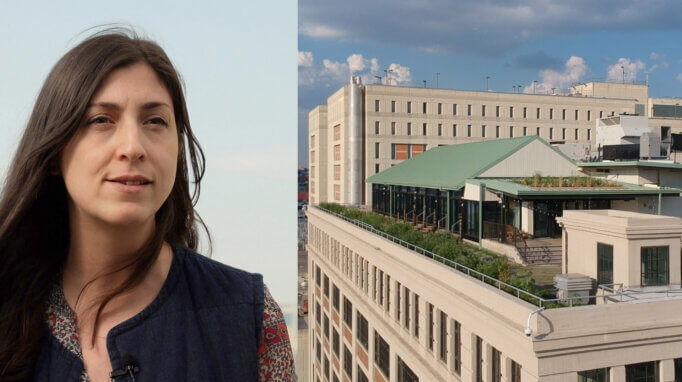 Anastasia Cole Plakias, the Chief Impact Officer at Brooklyn Grange Farm in New York City, is pioneering a transformative journey from urban rooftops to food justice.
In an intimate interview conducted by Meiny Prins, founder of the Sustainable Urban Delta Foundation, Anastasia shared her insights and vision for a greener and more equitable city.
Fresh, healthy food should be a right that is shared by all and not a privilege held by few,
Anastasia asserted, embodying both her personal mission and the driving principle behind Brooklyn Grange.
A Blueprint for Change: Green Roofs and Urban Farming
Since its inception in 2010, Brooklyn Grange has ventured far beyond mere urban farming. As Anastasia explained, "We're growing food in cities," emphasizing the multifaceted nature of their mission. These spaces, green roofs and ground-level areas alike, do more than just produce food. They are designed as "critical environmental resources, reducing stormwater overflow, reducing urban heat, island effect, creating forage and habitat for our wildlife."
Anastasia put forward an inspiring vision for policy change, one that supports urban green space while also encouraging food production. "I think we can fulfill two priorities for cities by creating policy that incentivizes urban green space and using that green space to produce food and not just for-profit businesses like Brooklyn Grange, but food forests where food can be a commons available to all." Her words echo the ethos of the Sustainable Urban Delta Foundation, demonstrating a shared commitment to sustainable urban transformation.
Empowering NYC's Communities: From Sunset Park to Citywide Impact
Anastasia emphasized Brooklyn Grange's community-centric approach: "I hope that we are able to collaborate with this community to create a more food secure community, a community that has greater autonomy over the access to food and green spaces."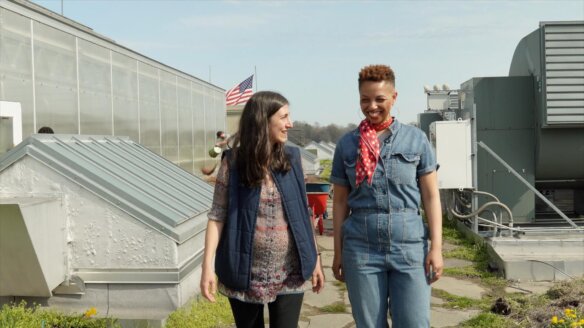 Her perspective recalls a similar sentiment expressed by Qiana Mickie, the Director of Urban Agriculture for the NYC mayor's office, in a previous article based on our interview with Qiana at one of Brooklyn Grange's rooftop farms. Just like Brooklyn Grange, we believe in empowering local communities to create a more sustainable urban future.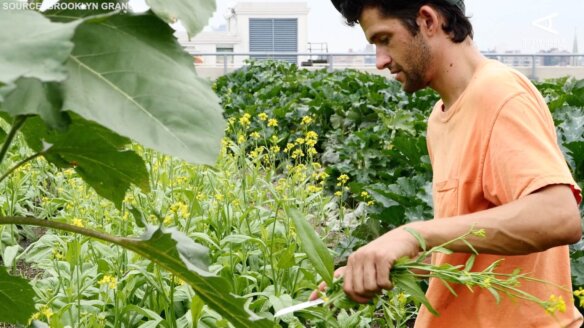 Anastasia underlined this by referring to Sunset Park, where the community played a central role in actualizing a vision for their future. "We are spaces for people to engage with nature through a common language of food, where an opportunity for urban communities to have a voice in the conversation about what they eat, how it's grown, who grows it," she explained.
Equitable Distribution: The CSA Program and Beyond
Brooklyn Grange is pushing for a more inclusive food system, one that goes beyond profit. "Over the last few years, Brooklyn Grange has shifted our distribution model to one that prioritises equitable food distribution," Anastasia declared. Their Community Supported Agriculture (CSA) program operates on a sliding scale, allowing the majority of the rooftop harvest to be distributed at low or no cost.
A Sustainable and Livable Future for all New Yorkers
As we move into 2023, Anastasia envisions a future where sustainable food systems and livable cities go hand in hand. "It will also mark well over a decade that we've been designing, building and maintaining green spaces for clients all over the city and hosting New Yorkers and visitors from the world over for programming and events that really centre sustainability communities and a conversation about what food and cities can look like in the future."
Her inspiring vision is a testament to what Brooklyn Grange and the Sustainable Urban Delta Foundation stand for – creating livable, green urban spaces for all.