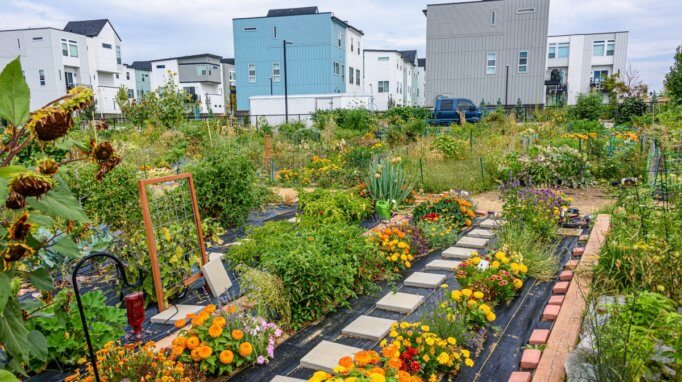 All around the world, farmers, city planners, chefs, and citizens are joining the growing movement of local food production. We picked 8 podcasts for you to introduce you to their views, motivations, struggles, and challenges they encounter in their quest for a fair, local and sustainable food system.

1. The Urbanist
The Urbanist is a podcast covering a variety of topics around urbanism: from mobility to health to architecture. Food production is widely discussed as well. Listen to the episode about a new Agri-hood in Vancouver, where residents reconnect to locally grown food, find out how the founder of the Sitopia urban farm in London is bringing her project to life, or get inspired by renowned architect and urban agriculture advocate Chris Precht about his vision on how to integrate food production into buildings.
2. Locally Grown In
With the Locally Grown In podcast from Agritecture, you travel around the world to some of the most inspiring urban farms. In ten episodes produced from ten different cities, Agritecture founder Henri Gordon Smith explores the threats and opportunities for local agriculture by looking at existing data and interviewing leaders from the local food movement in cities.
3. Local Bites
The Local Bites features inspiring interviews with leaders of localization efforts around the world. As the food system is a crucial element of the localization movement, a number of episodes focus on local food production. Listen to the story of the Copenhagen Food Coop, a member-owned alternative to mainstream grocery stores, learn about food sovereignty in the global economy or discover how to build a thriving farmer's market from the ground up.
4. Regenerative Skills podcast
With hundreds of episodes and new ones added every week, the Regenerative Skills Podcast is an ever-growing source of inspiration for anyone looking to contribute to a regenerative world. Guests on the podcast include Michael Ableman from Farm the City and Sole Food Street Farm and Curtis Stone, author of the Urban Farmer.
5. Edible activist
Edible Activist is a podcast where dynamic people of color in the food and agriculture space share personal food journeys, stories, and perspectives that stem from the land. From Rob "Veggie" Horton fighting food insecurity in Nashville, to The Green Scheme family teaching kids about food and entrepreneurship, podcast host Melissa L. Jones welcomes inspiring guests each week, many of them being initiators of grassroots movements that are using the power of food to reshape communities.
6. Big Ideas Into Action
The World Resources Institute has (re)launched a podcast series about seven urgent global challenges: climate change, energy, food, forests, water, cities, and the ocean. The podcast explores topics such as how to create a sustainable food system, or how we can tackle the issue of food waste, where food waste expert Toine Timmermans explains his vision for cities (and a world) without waste.

7. Food Talk with Dani Nierenberg
Danielle Nierenberg is the founder of Food Tank and a world-renowned researcher, speaker, and advocate, on all issues relating to our food system and agriculture. In Food Talk with Dani Nierenberg she chats with people working towards a more sustainable food system. Sit back and listen to Felipe Villela about regenerative agriculture, to Marcus Benedetti about the importance of community when building a different food system and to Kimbal Musk and Frank Giustra on their quest to help plant 1 million gardens.
8. The Urban Farm Podcast
With over 650 episodes, the library of the Urban Farm Podcast is an incredible source of knowledge and inspiration for anyone who wants to learn more about how to grow healthy food in your own backyard, a community garden or a commercial urban farm.
Did you get inspired by the podcasts in this article? Make sure to sign up for our monthly newsletter, so you'll never miss the latest tips on podcasts, documentaries, articles, books, and videos about Sustainable Urban Delta