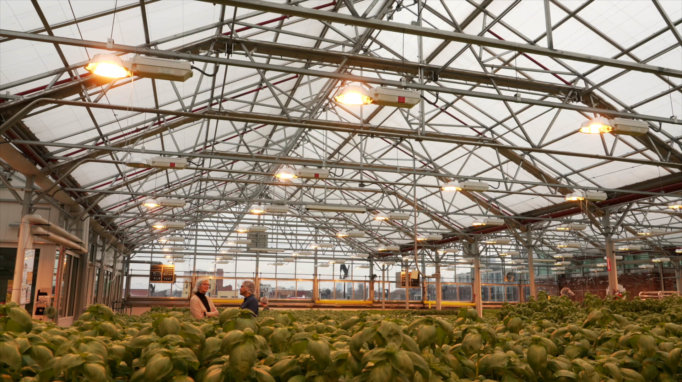 From climate change and biodiversity loss to obesity: all the big challenges the world faces today are interconnected. And most of them can be solved by bringing sustainable food production back to the city. In the documentary 'Sustainable Urban Delta; The city and the green belt', Meiny Prins takes us on an eye-opening journey around the world's most inspiring food producing cities.
As a sustainable entrepreneur, Meiny Prins travelled to many megacities. Over the years, she realized something was changing in the world's urban landscape: "More than 400.000 people move from the countryside to the city every single day. Because of this, the green areas around cities – better known as green belts – are quickly disappearing. And with them the farmers who used to feed the urban dwellers."
Over the last decades, cities have come to rely heavily on a system in which food is produced on an increasingly industrial scale in a few centralized locations. Transporting food from one continent to the other means a lot is lost along the way and a huge amount of CO2 is emitted. In addition, large scale monocultures that diminish biodiversity, cause deforestation and deplete soil health have become the norm.
At the same time, millions of people suffer from lifestyle diseases because they are living in food deserts; cities where it is almost impossible to find fresh produce. In the United States alone, obesity, high blood pressure and diabetes type 2 are costing over one billion dollars a day.
Food producing cities
Luckily, there is a solution. By bringing sustainable food production back to the city and creating sustainable urban deltas, we can solve most of the major social and ecological challenges at hand. In order to tell the world about the huge potential of food producing cities, Meiny Prins decided to create the documentary 'Sustainable Urban Delta; The city and the green belt'. "If we start to produce our food locally in urban environments, we set a positive chain reaction in motion whereby things like growing healthy produce, recycling waste water to irrigate crops and combining energy flows between farms and households start reinforcing each other. The knowledge and technology to produce more food per square meter – and therefore for cities to feed their own growing population – are there. Now we just need to implement them."
The documentary
In the 40-minute documentary, which is available for free in multiple languages on Youtube and on our website, Meiny visits food producing pioneers who prove things can be done differently. From urban farms growing food right on top of supermarkets to indoor farms that produce fresh produce in the middle of food deserts whilst creating jobs for veterans, recovering addicts and former prisoners; it is all there. So sit back, prepare for some serious inspiration and enjoy the ride!
Looking for more inspiration? Subscribe to our monthly newsletter!