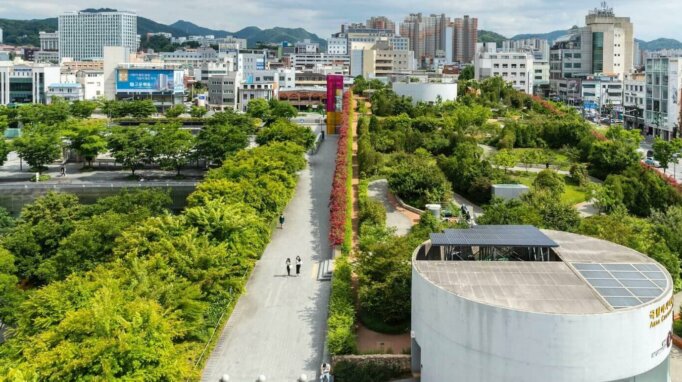 As global food chains prove to be unreliable and unsustainable, cities turn towards local and regional food production. But how do you create food producing cities that flourish socially, ecologically and financially? Adriaan van der Giessen – Food & Smart City specialist from the Dutch city of Rotterdam – tells us all about it.
From making food chains more transparent to reusing energy flows from greenhouses in public buildings: creating smart and food producing cities go hand in hand. Because of this, as a project manager in the port city of Rotterdam, Adriaan van der Giessen focuses on both topics. In this role, he discovered that many urban challenges are related to food. "In the South of Rotterdam, for example, people are dealing with severe health issues due to their diets. Exposing these residents to fresh local food production could spark the awareness needed for them to make a change", Adriaan explains. "But also, when you look at things like climate change, sustainable urban food production could offer a massive opportunity to make cities more climate resilient."
Urgency
According to Adriaan, Covid-19 has increased the urgency for cities to focus on food. "The pandemic has shown how fragile our global food chains are in terms of transport and logistics. It also emphasized the importance of fresh and healthy food in order to up people's natural resistance. But in many cities around the world, particularly in Asia, importing fresh food is highly expensive and often lacks quality. In these places, producing fresh food within city boundaries can definitely form a solution."
Place-based
Despite the potential of local and regional sustainable urban food production, Adriaan emphasizes that things like vertical or indoor farming should never be the solution in itself, but a means to an end. "The business model needs to be right. And the location decides the business model. For example, if you want to create a vertical farm in the centre of Rotterdam, it would be very difficult to make ends meet. Prices per square meter are high and people in Rotterdam already have access to regional fresh food of a comparable quality, which is being produced in the Westland", Adriaan says. "But if you look at Shanghai, it is a completely different story. Because there, 95 percent of the food is imported from afar, which has an impact on both price and quality, making a vertical urban farm a much more viable option."
Although we might think it is normal to eat avocados and grapes all year round, it is not. Local governments can motivate people to embrace the wealth their own region has to offer.
Social dimension
In addition to choosing the right business model for the right location, adding a social dimension to your urban food producing enterprise can also make all the difference. "Many urban dwellers are disconnected from their food, with unhealthy diets and huge medical and societal costs as a consequence. So the more businesses that produce healthy and sustainable food in cities, the better", Adriaan says. "By creating social impact with your business, for example by hiring people with a so-called distance to the labour market, you can make urban food production work, even if the prices of your product are a little higher than average. Because it gives your product a story, which gives people a reason to buy it."
Governmental policy as a catalyst for food producing cities
To create flourishing food producing cities, local governments need to create policies that enable and stimulate both entrepreneurs and citizens to join the local or regional food movement. "For example, by including food production in the curricula of both primary and secondary schools, we can teach children what it takes to grow fresh food and help them discover the food potential of their own region", Adriaan explains. "But you can also think of government campaigns that promote buying local and regional products in order to motivate people to embrace the wealth their own region has to offer."
Start acting
For urban developers who want to boost sustainable food production in or around their city, Adriaan has some advice. "Find existing communities, initiatives and enterprises that have already started and ask them what they need in order to make a bigger impact. And think about what types of initiatives would flourish in the particular location where you are based. Because sustainable urban food production is only truly sustainable if it is viable, both in the short and the long run."
Looking for more inspiration? Watch our online documentary about the potential of food producing cities!