Many urban dwellers have lost the connection to their food. Some don't even know where their meals come from, let alone what it takes to produce them. Luckily, everywhere around the world, Community Supported Agriculture farmers are building bridges. This is how.
The lack of connection between people and food is causing many social and ecological challenges. From obesity and biodiversity loss to inadequate animal wellbeing; we've lost grip on how our food is being produced and thereby on the consequences of its production methods. In addition, our awareness of what it takes to produce healthy, local and sustainable food has disappeared. And with it our willingness to pay a fair price.
If something goes wrong, the members split the burden. But when harvest is bountiful, everyone benefits.
To close the gap between farm and fork, farmers have started to embrace a unique model of food production and distribution. So-called Community Supported Agriculture (CSA) farmers are not only inviting consumers onto their farm, but are in fact making them part of it. Local people buy shares in a farm's projected harvest in advance. In return, they receive regular deliveries for a set period (for example a season or a year).
Relation with the city
Whereas Community Supported Agriculture farms can be started everywhere, many of them show up on the outskirts of cities. And not without a reason. In their numbers, cities offer CSA farmers a great potential sales market. At the same time, the farms offer people in urban communities a way to reconnect with their food. Because what is more nourishing than getting your hands dirty whilst spending time outdoors and disconnecting from your busy live?
By updating members through weekly newsletters, organising volunteer days and even including them in decision-making processes, these farmers play a crucial role in creating conscious consumers.
Benefits
The direct-market CSA approach has many upsides. Farmers no longer have to take on all the risk, but share both scarcity and abundance with their members. They also get to spend time marketing the food early in the year before their long days in the fields begin and receive payment early in the season. At the same time, consumers get access to ultra-fresh produce, become exposed to new seasonal vegetables, develop a relationship with the person who grows their food and learn what it takes to produce food in the first place.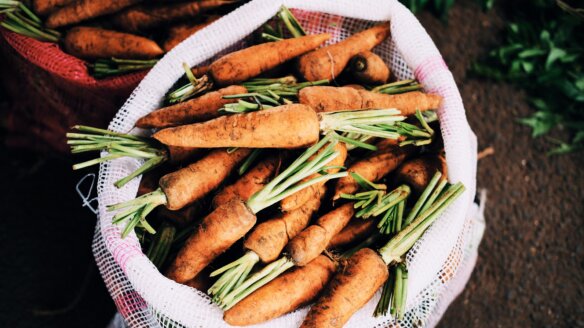 Community Supported Agriculture around the globe
Keen to discover more about CSA farms? Or looking to join one? Here are four inspiring examples from around the globe:
Want to learn how we can bring sustainable local food production back to the city? Watch the documentary 'Sustainable Urban Delta; The city and the green belt' here: