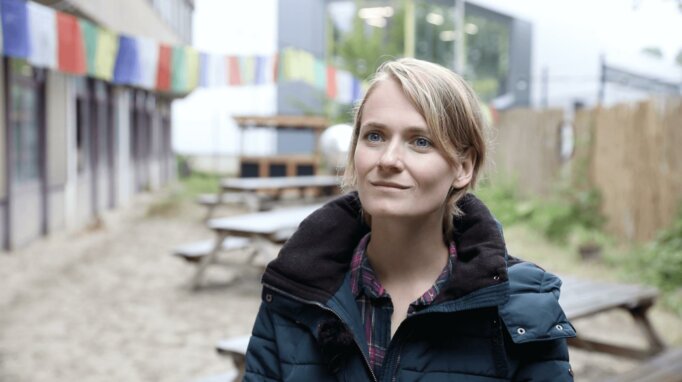 A shocking third of all resources that enter a city, leave it again as waste. And that whilst all that 'waste' is full of potential. By collecting waste streams smartly and turning them into new products locally, with her enterprise De Clique, Anja Cheriakova is building the future of zero waste cities.  
The average restaurant or catering business produces kilos of orange peels, coffee grounds and other residual flows on a daily basis. What if we did not throw all these raw materials into the same green bin, but collect them separately and make new products from them locally? So that restaurants can polish their kitchens with cleaning products made from their own orange peels and serve coffee in cups of their own coffee grounds?
It all starts with becoming aware of why we appreciate certain things and not others.
This is exactly what Anja Cheriakova has in mind. After studying the waste system for years, she decided to take action in 2019. Together with Fairphone founder Bas van Abel, she started De Clique 'De Clique' is a play on the Dutch word for leftovers. Here you can find out more about this pioneering business: https://declique.nl/en/ : a raw materials service that separates bio-flows such as cuttings and food waste and collects it in a CO2-neutral way. To subsequently turn them into new products such as bread, soap and beer.
"There is so much value in things that are now labeled as waste," says Anja. "At the moment all kinds of residual flows are incinerated that you could feed people with. Or things you could use as building materials. The more you dive into this, the more you realise that we can create local economies that run on residual flows."
After only three years in business, De Clique has established a network of 125 local partners and diverts 15,000 kilos a month from landfill.
Circular cities and companies
De Clique does not only try to close loops within cities, but also within companies. For example, restaurants receive savory snacks made from oyster mushrooms that are grown on their own coffee grounds. And this local tea company grows its herbal tea on compost provided by De Clique. "The companies we work with take responsibility for their residual flows and do not bury their heads in the sand. They are involved in the world and want to do it differently," Anja explains. "Moreover, it is of course very nice to be able to tell your guests where the origin of their beer or bread lies. In this way you make circularity very concrete."
By serving products made from your own residual flows, you have a completely different relationship with what you serve. You contributed to the origin and that creates a bit of pride.
"I think sustainability really matters and that we all have to make more conscious decisions," says Danny, founder of Broei, one of the restaurants that partners with De Clique. "I just want to contribute to a bright future for my children. That is how the collaboration with De Clique came about and I'm thrilled about it. I was jumping for joy as I was thinking: 'Yes, this is what I've been looking for, for so long!'"
A De Clique in every city
At the moment, De Clique is working in Merwede in Utrecht together with company restaurants, catering establishments, caterers, educational institutions, museums and garden centers. Supermarkets are next in line. But Anja and her colleagues are particularly busy scaling up De Clique nationally. "Our goal is to create a model that we can copy in other cities. So that ultimately, there is a De Clique-hub in every city where valuable local residual flows are converted into new products."
Steward ownership
To achieve this mission, De Clique recently raised 500,000 euros in investments. What is special is that the money is used on a 'Steward Ownership' basis: a special business model in which the company is, as it were, of 'itself'. Anja: "Investors get little or no say. Profit cannot be withdrawn and the company's mission forever remains paramount."
Zero waste as the new standard
In ten years' time, Anja hopes to wake up in a waste-free world in which we no longer regard any residual flow as waste. "That we always ask ourselves: 'If I have this material left, who can use it?' And that we buy a lot less in general. Because we focus on what we really need and what truly matters. Like being in contact with each other and the Earth. That connection with both the material and the immaterial is what ultimately matters the most."
Looking to find out more about change making pioneers like De Clique? Sign up for our newsletter or watch our online documentary.