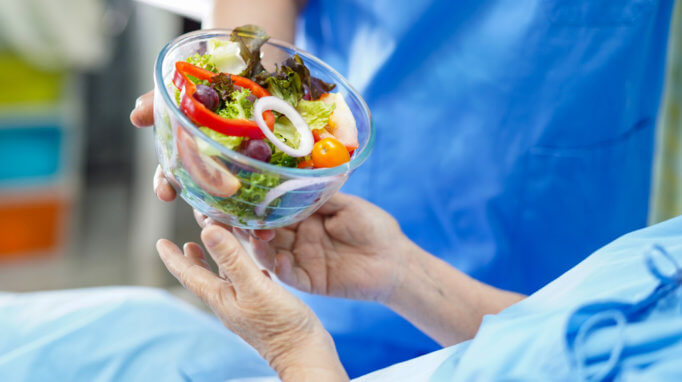 Everyone who's ever been hospitalized knows that hospitals aren't famous for tasty and nutritious food. But there are exceptions. These hospitals grow their own food to feed their patients and often also their employees. "Food is medicine, that's why we're doing this".
False Bay Hospital, Capetown, South Africa
Neigbourhood Farm grows food in urban settings in South Africa. Its goal is to improve nutrition in schools and communities. One of the farms is located next to the False Bay Hospital and provides both the hospital and staff with fresh fruit and veggies. The green environment of the farm provides an additional benefit, explains Dr. Wendy Waddington of the False Bay Hospital Board: "It calms patients down, providing them with the right mindset to recover effectively. Many studies show evidence that even brief encounters with nature settings can bring about recovery from stress."
Boston Medical Center, Boston, United States
Right on top of the Boston Medical Center you find a thriving rooftop farm, with more than 25 crops. The farm provides fresh, local produce to the hospitalized patients, cafeterias and the Preventive Food Pantry: a free food resource for low income patients.
"Food is medicine. That's why we're doing what we're doing," says David Maffeo, the hospital's senior director of support services. "Most urban environments are food deserts. It's hard to get locally grown food and I think it's something that we owe to our patients and our community."
AZ Zeno, Knokke, Belgium
The AZ Zeno hospital in Knokke, Belgium is pioneering a "food as medicine" project, where it studies how food can be part of the treatment provided to patients. The hospital grows its own vegetables on a 1,5 hectare farm located just one kilometer away from the hospital. Since chef Pieter De Smet is in charge of the menu, things have changed radically: from where the food is coming from to menus tailored to every patient's need. The hospital expanded its ambition to use food as medicine earlier this year when it started planting a food forest next to the hospital, which in the coming years should provide even more healthy and local food. Read more about AZ Zeno here (Dutch).
Vera Barros, La Rioja, Argentina
It is estimated that more than 10 percent of the Argentine population suffers from diabetes. Food is an important factor to prevent diabetes or – once diagnosed with the disease – to control it. That's why the diabetes department of the Vera Barros Hospital in La Rioja, Argentina, recently opened an organic farm on the hospital premises. The patients work at the farm as volunteers and are able to take the fresh produce home for free. "We often hear that it's too expensive for our patients to buy organic fruits and vegetables. This way, healthy food, an important part of the prevention and treatment of diabetes, becomes accessible to everybody", says hospital staff member Andrea Mercado Diaz. Read more about Vera Barros here (Spanish).
Khoo Teck Puat Hospital, Singapore
Realizing its high dependency – and therefore vulnerability – on imported food, Singapore set an ambitious goal to provide 30 percent of its own nutritional needs by 2030. One of the initiatives contributing to that goal is Khoo Teck Puat Hospital. At the rooftop garden of this hospital, 130 species of fruit trees, 50 species of vegetables and 50 species of herbs are cultivated. The farm is run by volunteers and is a source of organic produce for the kitchen.
These examples show that hospitals can play an important role in the transition towards a local, urban food system, where fresh and healthy food becomes available to everyone in the community.
Were you inspired by this story? Also read how restaurants are stepping up their game in producing their own food. And sign up for our monthly newsletter to make sure you never miss a story.
Header image: sasirin pamai / Shutterstock.com