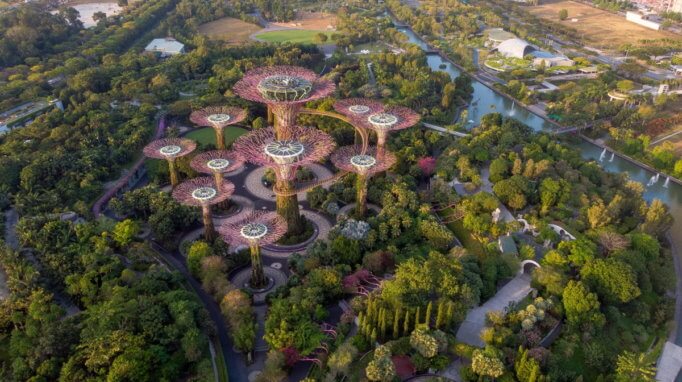 In 2019, Singapore launched its "30 by 30" initiative: the objective to locally produce thirty percent of its nutritional needs by the year 2030. For a crowded city with over 5 million inhabitants that imports almost 90 percent of its food it's needless to say this plan is ambitious. How is Singapore making this happen?
Just a few decades ago, around 1970, almost 10 percent of the population of Singapore was actively engaged in agricultural activities or indirectly dependent on farming or fishing for a living. But just like in many other megacities, rapid urbanisation and industrialisation pushed available farmland out of the urban area, eventually even out of the country. Realising that high dependency on international food chains can put food supply for urban dwellers at risk, Singapore has adopted a strategy that promotes local and sustainable food production instead.
Technology and innovation
With limited space available on the ground, Singaporeans have to be creative in where to farm. Government and farmers have embraced technology and innovation to improve product quality and efficiency. At rooftop farms such as Citiponics and ComCrop, fresh greens are grown using less land, less water and less electricity, minimizing resources and maximizing produce. And at indoor farms, everything from harvest to temperature to airflow can be controlled digitally. 
From neighbourhoods to agrihoods
Food production in Singapore isn't all high tech and innovation though. The community element plays an important part as well. The Foodscape Collective works towards a fair and circular food system for all. With both government and community support, the collective is turning underutilized space into food forests and edible gardens, creating neighbourhoods centered around food, biodiversity and people. And Edible Garden City has transformed over 260 empty spaces into flourishing places full of food: schools, front yards, hospitals, malls, restaurants, and even a former prison. With creativity and a firm belief that all changes matter, Singapore shows that any empty space in a city can be turned into a food producing paradise!
Related: How we can turn empty urban spaces into food producing havens. And why we should
Where to find local produce
For urban dwellers, knowing where to get their hands on fresh and local produce can be a challenge. That's why the government of Singapore created a website with an overview of all local growers, as well as an "SG Fresh Produce" logo making it easy for consumers to identify food coming from their own soil when they go grocery shopping. 
Financial support
Financial support is crucial for cities that want to provide their citizens with healthy, local food. That's why Singapore has launched multiple funding schemes to help local farmers to get started, to expand or to improve their working methods. Recently, a 60 million Singapore dollar (38 million euro) fund was announced, aimed to support local farmers in their efforts to expand production capability, boost yield, raise productivity, sustainability and improve circularity of resource use.
Singapore is an excellent example of what can happen when cities adopt a holistic strategy for the future of their food and where citizens, farmers and local government all play an equally important role in a transition towards a local, fair and sustainable food system. 
Inspired by the story of Singapore? Read how one of the most densely populated capitals of Europe is turning its lack of space into a strength. Also make sure to sign up for our monthly newsletter to never miss a story.