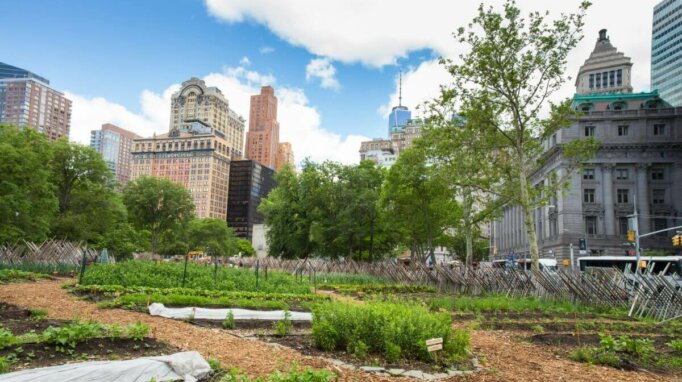 Hunger in the United States is at one of its worst levels in history: 1 in every 6 Americans struggle to eat daily. Urban dwellers living in New York City are no exception. But there's a growing number of people determined to change that. Meet the urban farmers bringing fresh produce, health, job opportunities, and education to their New York communities.
For millions of people throughout the United States, having a decent meal is far from a given. Some urban neighborhoods, like the Bronx in New York City, even report numbers where 1 out of every 4 residents go hungry. Although initiatives such as food banks and food pantries alleviate hunger in the short term, long-term and sustainable solutions lie elsewhere. That's why a growing group of farmers is standing up for a change in the food system, advocating for food justice and food sovereignty. They apply a holistic view of a food system that sees healthy food as a human right and address structural barriers to that right.
Everybody should be able to grow their own food. Even if you live on concrete – Linda Goode Bryant, Project Eats
Food desert or food apartheid?
A food desert is a well-known term used to describe geographical areas where access to affordable and healthy food options is restricted or even nonexistent. Grocery stores can be located miles away and for those that don't have a car, there's nothing left to do but choose the unhealthy options from fast-food chains available closer to home. 
The problem with the definition of food deserts is that it's mostly focused on proximity to food providers. It doesn't consider other factors influencing access to healthy and nutritious food.
Karen Washington, a long-term community activist and urban farmer from the Bronx has been advocating for a different term and talks about food apartheid instead of food deserts. Where food deserts only look at geographical issues, food apartheid looks at the system as a whole, including factors such as race and economics. 
Vibrant places full of potential
There's a second reason why Karen doesn't use the word food desert. "Desert makes us think of an empty, absolutely desolate place. But when we're talking about these places, there is so much life and vibrancy and potential," she explains in an interview with The Guardian. 
That potential is shown by a growing number of initiatives throughout New York City. There's Karen's own project, Rise and Root Farm for instance. And there's Project Eats, a network of community-based food systems that provides fresh and healthy food in communities that usually don't have access to it. Although founder Linda Goode Bryant didn't have any knowledge of growing food, or access to land, she decided to make it her mission to make good, nutritious food available to everybody, regardless of income.
Growing healthy communities
The lack of access to fresh and healthy food is causing diet-related illnesses, such as obesity and type 2 diabetes, to skyrocket in neighborhoods living with food apartheid. The urban farmers of New York show that growing healthy food is a powerful way to grow healthy communities. Tony Hillery is one of those farmers. He has been working for over 10 years in Harlem. Almost 100 percent of the children in the community he works with do rely on food stamps and 40 percent are living in homeless or domestic violence shelters. 
At the 10 urban agriculture facilities of Tony's organization, Harlem Grown the children learn how to sow seeds, take care of the plants, and harvest their own food. 
We plant fruits and vegetables, but we grow healthy kids and sustainable communities. – Tony Hillery, Harlem Grown
Healthy habits start young, explains Tony, which is why Harlem Grown targets elementary-aged students. Because food justice is more than just providing and distributing food, the organization uses mentorship, education, and partnerships to create sustainable change and to positively impact the entire community.
Cultivating futures
Besides combating diet-related illnesses and hunger, many of the farms function as an empowerment tool for the community youth. The Battery Urban Farm is an educational urban farm that engages over 5.000 students from 100 schools. And Red Hook Farms – an urban farm with a 20-year track record in Brooklyn – offers internships so young community members can learn farming and basic employment skills, useful for any type of job.
Accelarating urban agriculture in New York
The examples mentioned in this article are just a handful of the numerous initiatives working in New York city to provide urban dwellers with fresh and healthy food. That's why New York City Mayor Eric Adams recently appointed Qiana Mickie as director of the newly created Mayor's Office of Urban Agriculture. The goal of the office is to support, expand and strengthen the network of community gardens and urban farms around the city. The decision led to a flood of positive reactions from urban farmers, who all know how growing food can be a vehicle for social change and that even though food justice is a complex issue, change is possible. Even more when we join forces.
Were you inspired by this story? Check out how Paris is turning into an edible paradise and how Singapore is on its way to producing 30 percent of its own food by 2030. Also, make sure to sign up for our monthly newsletter for the most inspiring stories.
Header image: littlenySTOCK / Shutterstock.com