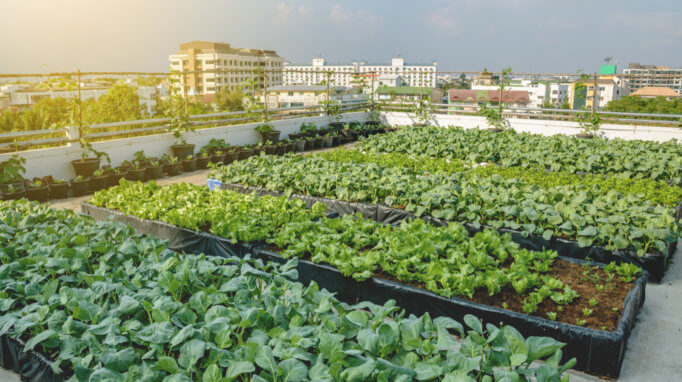 Our cities are becoming bigger and more crowded everyday: it's expected that by 2050 up to 70 percent of the world population will live in urban areas. But although they might seem full, there's still a lot of unused space, either within the city or just outside of it. With supporting policies from local government and the right urban planning, farmers can use these vacant lots, rooftops and abandoned buildings to build a local, sustainable food system.
Recent research shows that the UK could grow up to 40 percent of its own fruit and vegetables by using urban green spaces. In New York alone there are more than 1.000 empty city lots. All these empty spaces hold a lot of potential for (aspiring) urban farmers, as they can be used to grow healthy, nutritious food for their local communities. 
"We realized how many empty lots we had," explains Antonio Luis Lattuca, founder of the Urban Agriculture Program of Rosario. In 2002, the Argentinean city developed the program in a response to the economic crisis, in order to create jobs and a reliable, healthy food supply. Twenty years later, 825 hectares of agroecological land feed thousands of families, provide jobs and boost the city's climate resilience.
Transforming communities
The Urban Agriculture Program of Rosario is an inspiring example of how vacant empty spaces can transform communities. And as hostile as a place may seem, with the right support, almost any place can be turned into a thriving urban farm. In Rio de Janeiro, the Manguinhos neighborhood used to be a slum where addicts smoked crack and residents dumped trash. The space, the size of 4 football fields, is now a lush community garden that feeds around 800 families. "Our communities needed this. Peace, happiness and a better life", says coordinator Ezequiel Dias while holding up freshly harvested vegetables.
Similar transformations took place in South Africa, where a former murder hotspot in Johannesburg turned into a thriving urban farm. In Thailand, an urban farm located on a plot of land that used to be a landfill, is boosting food security. And in Berlin, a 6.000 square meter abandoned lot has been feeding the local community for over 13 years.
Also read: Community Supported Agriculture: how it works and why it matters
Roofs and vertical farms
Vacant lots and landfills aren't the only spaces urban farmers can use to feed their local communities. In the past years, an increasing number of farmers are turning to the roofs to grow fresh fruits and vegetables and abandoned buildings are being transformed into vertical farms. And in Vancouver, the Olympic Village turned into an edible paradise for urban dwellers.
Urban planning
The examples in this article show that with the right support from city governments, local, sustainable and healthy food systems can be built. Platforms such as the Milan Urban Food Policy Pact provide a framework for cities that want to step up their game and to offer an alternative for the destructive, global food system.
Policies and urban planning play an important role in bringing back food production to urban areas. Sustainable Urban Delta founder Meiny Prins argues local food production should be included in urban planning. "As cities grow, they push their green belts where food is produced, further away. It would be great if, instead of that, cities started to think about incorporating green belts into their urban planning."  Researcher Julia Munroe adds to that: "Instead of allocating an urban area to yet another big supermarket, reserve the space for a market where people can sell their local and regional produce. Incentivise informal traders and agro-ecological producers and processors by giving them space, funding and access to markets." 
Do you want to learn more about cities that are taking steps towards a different food system? Read about the plan of Paris to become a 15-minute city, Bristol's Good Food Network or Singapore's bold ambition to produce 30 percent of its own nutritional needs by 2030. Also, make sure to sign up for our monthly newsletter for the most inspiring stories delivered straight to your inbox. 
Header image: YuRi Photolife – Shutterstock.com