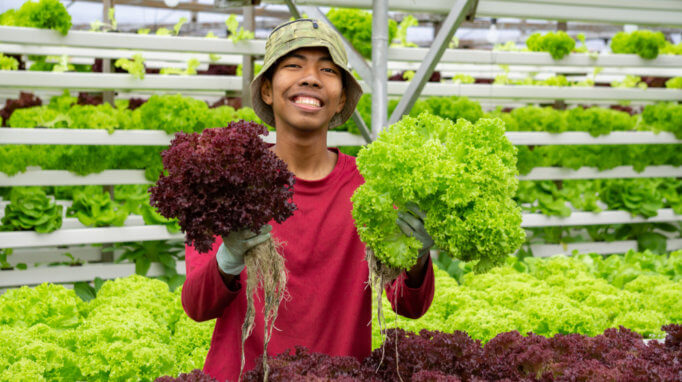 When space to grow food is limited, vertical farms can offer a solution to feed urban dwellers with fresh, healthy, and locally grown food. And as most vertical farms are indoors, they also offer farmers the opportunity to grow food in harsh climates all year round. Get inspired by these 9 examples from all over the world.
1. Vertical Harvest grows food and communities
Vertical Harvest tackles both food and job insecurity. At their urban hydroponic farms located in different cities in the United States, people with mental and/or physical disabilities produce fresh, local food year-round. Even in an area that's iced over for most of the year!
2. Underground vertical farming in London
Living proof there's practically no limit to where you can grow food is Growing Underground. Hidden in a former World War ll bomb shelter 33 meters below the crowded streets of London, garlic, broccoli, arugula, radishes, watercress, salad, and many other nutritious and delicious vegetables are grown.
3. A 7-meter high farm in Sao Paolo
In a downtown neighborhood of the Brazilian metropole of Sao Paolo, Pink Farms is taking vertical farming to new levels. The founders of the 7-meter high farm were motivated by the inefficiency of the food system. Up to 40 percent of produce in Brazil goes to waste. Pink Farms reduces the distance between farm and fork and by growing indoors – limiting the impact of climate conditions – one of the first vertical farms of Latin America is showing how things can be done differently.
4. Vertical farming in a hotel in Georgia
SpaceFarms is located in the award-winning Stamba Hotel in Georgia's capital Tbilisi. The vertical farm can deliver fresh greens to the guests of the hotel within hours after harvest. It also serves a variety of restaurants in the city.
5. Strawberries and polar bears in Norway
Svalbard is a remote Norwegian island, located close to the North pole. Polar bears frequently walk the streets. Food is mostly imported from the Netherlands or Portugal, but the company Vertical Agri is about to change that. A recently launched project enables the local community to grow crops year-round. Electricity is retrieved from solar energy and geothermal energy provides heat. The company plans to open a 15.000 square meter vertical farm later this year in the center of the country.
6. Vertical farming without artificial light
Opposite the cold, white wonderland of Norway, we find Can-Agri. This innovative vertical farm located in Pretoria, South Africa, harnesses the power of the sun. Strategically placed plant walls allow direct sunlight to come in, avoiding the need to use artificial light.
7. Farming inside shopping malls
The Turkish city of Istanbul is home to Plant Factory. The vertical farming company announced plans to expand its production facilities to shopping malls. Up to 40.000 visitors will get in touch with a new way of growing food. Also, restaurants located inside the mall can use the fresh produce to provide their customers with healthy, locally grown food.
8. Guilt-free greens in Sydney
Urban Greens Sydney aims to supply the local community with sustainable, guilt-free and affordable plant products. The Australian vertical farm is trying to lower its environmental impact wherever possible. From biodegradable packaging to food delivery done by bike, this vertical farm is serious about the planet.
9. Changing the farming landscape of Manilla
Typhoons, droughts, volcano eruptions: farming outdoors in the Philippines is far from a piece of cake. That's why entrepreneur Ralph Becker is on a mission to provide the urban dwellers of Manilla with clean and healthy food. He uses hydroponic vertical farms and tries to limit the dependence of the Philipinnes on the import of food.
Were you inspired by this story? Check out these 16 incredible rooftop farms. And make sure to sign up for our monthly newsletter to stay up to date about the latest information about the future of food.
Header image: Lano Lan / Shutterstock.com