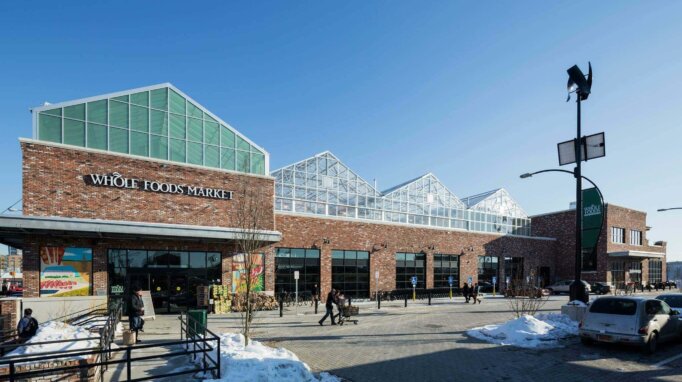 By reimagining urban landscapes, Gotham Greens is creating new ways to farm, produce local food, revitalise communities and innovate for a sustainable future.
Gotham Greens was founded in 2011 by a trio of entrepreneurs who wanted to provide local, safe fresh produce to stores and restaurants in New York. By reimagining urban landscapes, Gotham Greens is creating new ways to farm, produce local food, revitalise communities and innovate for a sustainable future. The company builds and operates ecologically sustainable greenhouses in former industrial sites, rooftops, backyards and parking lots – sometimes even on top of supermarkets.
Compared to conventional farming, indoor farming uses 95 percent less water and 97 percent less land
Gotham Greens is located in cities across America where it grows its year-round supply of produce for retail, restaurant and foodservice customers. Local cultivation and regional distribution enables Gotham Greens to deliver its products quickly after harvesting them, which ensures the greens are fresh tasting, nutritionally dense and long-lasting.
The upsides of indoor farming
The company's produce is grown using hydroponic systems in 100 percent renewable electricity-powered greenhouses that use 95 percent less water and 97 percent less land than conventional farming. Gotham Greens believes that high-tech, ecologically sustainable urban agriculture can play a significant role in addressing issues around food. Their produce is grown using ecologically sustainable methods in technologically-sophisticated, climate controlled urban greenhouses.
Increasing urbanisation asks for more, better, safer and more secure production capacity. Today's centralised food production, with crops being grown where the climate conditions are favorable, is no longer sustainable. It results in long and complicated supply chains, poor food quality and enormous food losses of up to fifty percent.
With the introduction of indoor farming technologies that are used at Gotham Greens, new opportunities for efficient local food produce for the city arise. Instead of relying on existing climates, their greenhouses give their expert farmers complete control of the growing environment, allowing Gotham Greens to create ideal conditions for their plants to thrive. Through automated systems, they can ensure that temperature, humidity and light levels, as well as air composition, are exactly the right balance.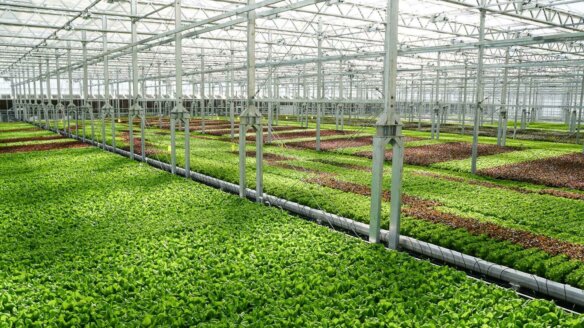 Extraordinarily fresh food in extraordinarily fresh places
The vision of Gotham Greens founders reads almost like a poem:
'We are farmers that live in apartments.
We see green fields where others see gray.
We fuel blooming communities where others fear urban decay.
And we grow the freshest produce on earth.
Most of all we know that the crunch of fresh, local, sustainably-grown food sets off a chain reaction of good things in the world.
We are Gotham Greens and we grow the most extraordinarily fresh food in extraordinarily fresh places.'
Sustainability
Sustainability isn't just about being smarter. It means changing the way we think. Working indoors means Gotham Greens can grow more produce (per square foot per year) than possible with conventional farming. Plus, a unique hydroponic greenhouse technology means using less land, less water and less energy, while producing less pollution and less waste.
Technology
The latest greenhouses are advanced, data-driven, climate-controlled facilities — the most efficient production systems available today. These greenhouses are some of the highest-yielding farms around, and use less energy, land and water than other farming techniques. Plus, advancements in machine learning and data analysis allow Gotham Greens to monitor their crop's health and progress, so they can deliver a fresher, more delicious product. Happy greens make happy people.
By bringing the farm close to people, Gotham Greens manages to reduce food waste and produce fresher greens that retain more of their nutrients
Community
Gotham Greens is committed to create jobs for local residents from local communities. In addition to healthy, and enjoyable year-round work, they are also dedicated to urban renewal and becoming permanent fixtures in the neighbourhoods surrounding their greenhouses. By partnering with schools, community gardens, non-profits, and businesses, they help to put better food on the table, to build a better quality of life.
Gotham Greens also supports local initiatives helping those in need, including City Harvest, Greater Chicago Food Depository, Green Bronx Machine, Gardeneers, Wellness in the Schools and Rescuing Food for New York's Hungry.
Locality
While there are many ways to farm responsibly and sustainably, Gotham Greens' approach is designed to bring the farm closer to you. Building greenhouses next to large urban populations and distributing regionally allows them to reduce transportation time, fuel consumption and associated emissions. Their greens stay fresh longer (like, a lot longer), retain more of their nutrients and reduce food waste.
Quality
Gotham Greens say their produce is not the best because of how they grow, it is the best because of who grows it. Their greenhouses are built upon the collective values, talents and energy of their diverse team. While their technology has redefined urban agriculture, their dedicated farmers are the real secret to producing and delivering delicious fresh food, from seed to store.
Looking for more sustainable urban food pioneers? Watch our online documentary or read this story about a climate positive regenerative urban farm!
Source header: Gotham Greens