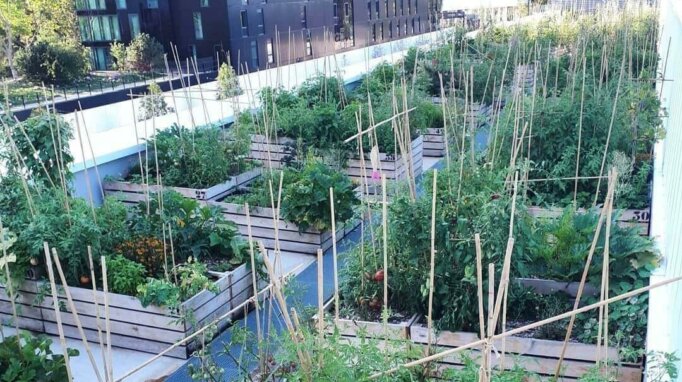 Paris has been famous for centuries for its refined cuisine. But just like the majority of large cities, it highly depends on food supplies coming from outside the city. With the opening of Nature Urbaine, that might change. The Parisian rooftop farm is the largest one in the world and produces up to one thousand kilos of fresh produce per day.
Right on top of Paris Expo's Pavillon 6 in the southern 15th arrondissement, a 14.000 square meter urban rooftop farm is providing Parisians with lettuce, tomatoes, strawberries, beets, basil, mint, and other fresh and organic fruits, vegetables and aromatics. Nature Urbaine, as the initiative is called, opened its doors in the middle of the coronavirus outbreak last year.
Paris is one of the most densely populated European capitals and was suffering from a lack of green spaces. That all changed when Anne Hidalgo was elected mayor in 2014 and declared that she wanted to cover the Parisian walls, facades, and rooftops with greenery. She aims to have at least thirty hectares of food-producing spaces within the borders of Paris. Urban farms have been popping up all over the city of love since the launch of the Les Parisculteurs project. With Nature Urbaine, Paris is one step closer to its ambitious 30-hectare goal.
How Nature Urbaine boosts economic and environmental resilience
Growing food inside urban areas reduces the dependency on long supply chains that are energy-intensive and vulnerable to outside shocks such as pandemics. Food that is locally grown hardly needs to travel to make its way to our plates, which drastically lowers the emission of greenhouse gases as planes, long-distance trucks and refrigerators are no longer required. Nature Urbaine is providing fresh produce to local residents, hotels, catering firms and to Le Perchoir, a restaurant that is located right on the same rooftop.
The rooftop farm uses aeroponics: a soil-free technique that maximizes the amount of produce per square meter whilst minimizing irrigation needs. Deep root vegetables such as potatoes and carrots cannot be cultivated with this method, but when you walk among the crispy lettuce and deep red cherry tomatoes Nature Urbaine provides, this hardly seems like a real downside.
Healthy communities and a healthy planet
Traditional monocultures that are currently feeding the majority of urban dwellers are intense users of chemical pesticides, fungicides, and fertilizers. Nature Urbaine however, produces only organic fruits and vegetables, boosting the health of Parisians as well as the health of the planet. To reconnect Parisians with their food and to boost community spirit, 140 vegetable plots are available for local residents.
Although it is needless to say that one urban rooftop farm can feed an entire city, Nature Urbaine is an inspiring showcase of how cities can change the way they feed their population.
Just like Paris, many other cities are stepping up their game of urban food production. Discover how metropoles like Dubai, Toronto and New York are preparing for the future of food in this blog, or watch our documentary full of inspiring food pioneers.
Source header image: Facebook page Nature Urbaine