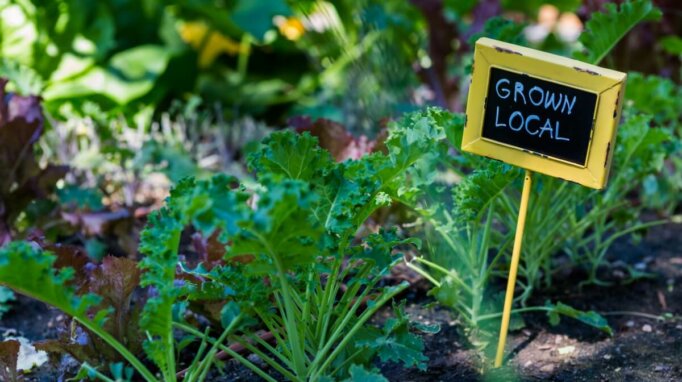 From a city covered in green roofs to vertical farms in the middle of the desert; all over the world, food-producing metropoles are stepping up their game to provide citizens with fresh, organic, and locally grown food.
With almost 70 percent of the world's population expected to live in cities by 2050, guaranteeing urban dwellers access to nutritious, sustainably grown food is becoming an ever-growing challenge. These eight food-producing metropoles prove that agriculture does not need to be outsourced to far-off monocultures, but in fact can take place within urban areas. In doing so, they reconnect people to both their food and communities.
No space, no problem: Singapore is turning into an edible paradise
In 2019, Singapore launched its "30 by 30" initiative: the objective to locally produce thirty percent of its nutritional needs by the year 2030. For a crowded city with over 5 million inhabitants that imports the majority of its food it's needless to say this plan is ambitious. But the amount of rooftop farms, agrihoods, vertical farms and community gardens sprouting across Singapore show that with the right support from both government and community, anything is possible.
Paris, the city of love… and urban farms
The French capital is living proof that a dedicated mayor and a handful of engaged citizens can kickstart a green revolution that can turn a lack of space into a strength. Anne Hidalgo, elected mayor in 2014, declared that she wanted to make Paris a greener city, with a third of all its green spaces dedicated to urban farms. Since the start of the Les Parisculteurs project, dozens of economically viable urban farms have sprouted. Amongst them is the largest urban farm in the world: a 14.000 square meter complex located on top of the Parc des Expositions building.
Related: these 16 urban farmers turned to the roofs to feed their cities
Green rooftops everywhere in Toronto
That local politics can have a big impact on sustainable food production is also demonstrated by Canadian metropole Toronto. In 2009, a bylaw was introduced making it mandatory for new buildings to incorporate green roofs. The cutting-edge approach has resulted in 1.2 million square feet of new green space across commercial, institutional, and residential developments. Many of the green roofs in Toronto include edible crops. A flourishing example is the Ryerson rooftop, where up to 10.000 pounds of produce is grown annually.
New York: the city where food production never sleeps
Many inhabitants of New York City lack access to healthy food. Luckily, inspiring initiatives such as Gotham Greens, the floating urban food forest Swale and the GreenThumb program (with over 550 community gardens!) are successfully changing the tide. A growing group of urban farmers is dedicated to put a stop to what they call 'food apartheid' in New York City.
Veggies from the dessert in Dubai
A hot, dry desert isn't the first place that comes to mind when you think of food production. But Dubai shows how even in a challenging environment food can be grown. Whether it is tasty tomatoes grown in innovative farms using a fraction of the amount of water of traditional farms. Or even an entire sustainable city built from scratch: this city is taking massive steps towards a future where it can feed its millions of inhabitants with fresh, nutritious, and locally grown food.
Shanghai: (em)powering sustainability in food-producing metropoles
Shanghai hosts over 24 million people, more citizens than any other city (or some entire countries for that matter). Rapid urbanization is threatening the self-sufficiency of the Chinese megacity that used to produce most of its own food up to the 1990's. But with ambitious projects such as the Sunqiao Urban Agricultural District and the inauguration of the world's largest waste-to-energy plant, Shanghai is well on its way to once again become an inspiring sustainable showcase.
Changing the food system of Johannesburg, one farm at a time
Johannesburg is known as the 'City of Gold', but there's another color that's on the rise: green. All over Joburg, urban farms are sprouting. On rooftops, in empty parks and even a former landfill and murder hotspot has been transformed into a thriving urban farm. In doing so, this South-African country not only provides fresh food. The urban farms are vehicles to build skills, raise public awareness, stimulate social change, and enable economic sustainability.
How one of the biggest cities in The Netherlands is shaping the future of food
Urban farms, restaurants growing their own vegetables, and waste hubs turning residual streams into new products: everywhere you look, the people of Utrecht – the 4th largest city in The Netherlands – are contributing to a different food system. Taken separately, all these initiatives might just seem like a drop in the ocean. But together they are living proof of how to turn a city into a sustainable, edible, waste-free, and biodiverse place where local communities can thrive.
Are you looking for more inspiration on sustainable food producing metropoles? Watch our online documentary or sign up for our newsletter!
Header image: Arina P Habich / Shutterstock.com