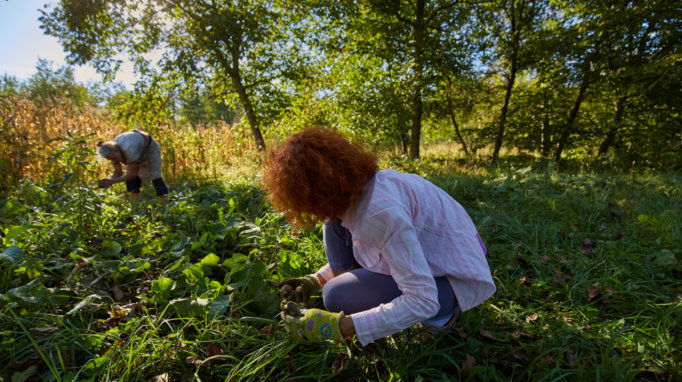 Everywhere around the world cities are facing the challenge of providing their growing population with fresh, local food. Instead of buying food cultivated in monocultures hundreds of miles away from home, both farmers as well as engaged citizens are turning to a radically different approach. They are transforming school yards, parking lots and even boats into edible food forests.
Food forests are the complete opposite of our industrial agricultural model. Instead of large-scale monocrops covered in harmful pesticides, food forests are diverse ecosystems, mimicking natural forests. The different layers of a food forest, ranging from tall fruit and nut trees to fruit bearing shrubs and bushes, vines, roots and other ground-hugging plants, offer a variety of fresh, local, organic produce.
If we take a moment to observe nature we realize that a woodland doesn't require artificial interventions to remain flourishing. – Picasso Food Forest
Especially for city dwellers, these urban food forests provide a huge opportunity. Rather than depending on the heavily industrialized food system, it enables people in cities to gain access to healthy and sustainable nutrition. In addition, by actively participating in taking care of a food forest, the connection to both nature and community gets an instant boost.
These ten inspiring examples of food forests prove that it is possible to provide inhabitants of urban areas with food that is good for both people and planet.
1) La Food Forest (Plettenberg Bay, South Africa)
Axel Will, owner of a small boutique lodge with breathtaking views, believes anybody can be part of the urban food revolution. His food forest, located in the middle of an upmarket housing area in Plettenberg Bay, provides his hotel guests with delicious, locally grown food. Axel wants to encourage other tourist sites to do the same and reduce their collective dependency on imported, industrialized and packaged food.
2) Brown Mill Urban Food Forest (Atlanta, USA)
The Brown Mill Food Forest is located in an area that has been labeled as a food desert. The city radically wants to change this. By 2022, 85 percent of the citizens should live within a half mile of access to fresh, healthy food. Brown Mill Food Forest produces a wide variety of nuts, fruits, vegetables, herbs and mushrooms, all available for public consumption. Local neighbours learn about sustainable food production through workshops and volunteer work.
3) Cargonomia (Budapest, Hungary)
By using bike messengers to deliver locally grown food around the city, the founders of Cargonomia connect sustainable food production with low-emission transport, tackling several issues at once. The cooperation turned a dried-out wetland in a residential area of Budapest into a food forest. The land, that was previously used as an illegal parking lot, is now bursting with edible plants and trees, all planted and maintained by a group of local volunteers.
4) Sherret Food Forest (Portland, USA)
This edible ecosystem in Portland was created to explore alternatives to conventional agriculture. The Sherret Food Forest sequesters carbon, enhances biodiversity and yields over a hundred varieties of foods. Volunteers steward the land guided by food forest farmers and educators Melissa Manuel and Teague Cullen.
5) Swale (New York City, USA)
As many as three million New Yorkers are living in places with a shortage of access to fresh, healthy food. An additional challenge for the city that never sleeps is that growing or picking food on New York's public land is considered illegal. Determined to spark a change in the way we produce and consume food, Swales founder Mary Mattingly decided to start a food forest on a barge, utilizing marine common law to make her floating food forest legally and publicly accessible.
Also read: Meet the urban farmers bringing food justice to New York City
6) Cooperation Ondergrond (Rotterdam, The Netherlands)
Rather than one sole food forest, Cooperation Ondergrond is creating a network of edible inner city forests in Rotterdam. Turning spaces such as school yards into small scaled food forests, the organization seeks to strengthen the connection between people and nature, between city and country and between consumer and producer.
7) Huerto Tlatelolco (Mexico City, Mexico)
The main objective of Huerto Tlatelolco is to involve the local community. Next to the edible forest that hosts 45 tree varieties, there is a seed bank, workshop program and tours to other urban agriculture projects. The school program educates children about sustainable food production. Huerto Tlatelolco is an inspiring example of growing fresh and local food in one of the most densely populated and polluted cities on Earth.
8) Kensington Community Food Forest (Melbourne, Australia)
Jacqui van Heerden is the brain behind the thriving Kensington Community Food Forest in Melbourne. Through careful planning and design she and her team are increasing food security for the residents of Kensington Estate: a redeveloped building offering public, social and affordable home ownership for low income households. The active Kensington community can now enjoy fresh and organic nuts, fruits, veggies and herbs all year long, just by stepping outside their building.
9) Picasso Food Forest (Parma Italy)
The first planting in this beautifully documented urban food forest in the south east part of Parma took place in 2012. Less than ten years later, the L-shaped Picasso Food Forest hosts more than 185 trees and shrubs, as well as more than 200 plant species and varieties. The barren grassland was transformed into a blooming green area where residents of the Picasso neighbourhood can meet, connect and forage their food.
10) Ashdod Community Food Forest (Ashdod, Israel)
The Ashdod Community Food Forest is another amazing example of how a group of engaged neighbours are transforming the way they eat. This young food forest provides a refreshing green area for residents of any age, restores their connection with food and nature and brightens up the day of many. As one young Ashdod community member stated on the Instagram page of the food forest: "I get bored at school. Whenever I get home, I always come here to the forest. I love it here."
Looking for more inspiration on urban food forests and other ways to grow sustainable, food producing cities? Sign up for our newsletter or watch our documentary!
Header image: Slatan / Shutterstock.com