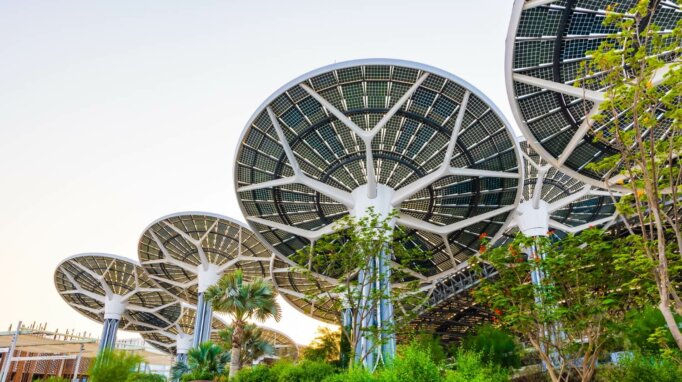 A hot, dry desert isn't the first place that comes to mind when you think of food production. But in the United Arab Emirates, megacities like Dubai and Abu Dhabi show how even in a challenging environment food can be grown. 
Whether it is tasty tomatoes grown in innovative farms using a fraction of the amount of water of traditional farms. Or quinoa that is cultivated in the middle of the desert. Or even an entire sustainable city built from scratch. Dubai and Abu Dhabi are taking massive steps towards a future where the cities can feed their millions of inhabitants with fresh, nutritious, and locally grown food.
The hidden potential of salt and sand
While more conventional crops aren't suited to grow in the sandy soil of Dubai, others thrive. The International Center of Biosaline Agriculture successfully grows salicornia, as well as quinoa, in the middle of the Dubai desert. These crops withstand heat and salty irrigation techniques and give us a glimpse into what the future of food might look like in Dubai and Abu Dhabi. 
The power of the sun
Growing fresh produce isn't only important to lower the dependency of the United Arab Emirates on imported food. Agriculture is also a great way to diversify the economy, argues Sky Kurtz. The founder of Pure Harvest Smart Farms harnesses the power of Abu Dhabi's sun to grow organic, local, and tasty tomatoes. Pure Harvest recently was recognized as the second must-funded start-up by Forbes Middle East.   
Fresh food year-round
Pure Harvest is far from the only innovative farm in the United Arab Emirates. Uns Farms, Madar Farms, and Badia Farms are other inspiring examples showing how to grow fresh food 365 days a year. These vertical farms allow for better control of the environment and the technology used often saves up to 90 percent of water. Something that's especially crucial in an area where freshwater is as scarce as in Dubai and Abu Dhabi. 
Related: Grow up! 9 amazing vertical farms growing food inside the city
Connecting local farms and restaurants
Local chefs play an important role in the transition towards a local and sustainable food system. But sourcing food from many different farms can be challenging. That's where Fresh on Table comes in. This initiative connects hotels and restaurants to local farms in the United Arab Emirates. One of the latest partners to join the quest for a local food system is the Hilton Hotel Group. The famous hotel chain aims to source 350 tons of food locally for its 22 hotels.
The Sustainable City
The Sustainable City is probably one of the most impressive projects in Dubai. The development includes 11 'biodome' greenhouses, 3.000 square meters of outdoor urban farms as well as individual garden farms for local food production. The vertical greenhouses are solar-powered and produce fruits and vegetables all year round. 
Ripe organic local farms
For consumers, figuring out where to buy locally grown, organic food can be a challenge. Ripe Organic Farms takes the guesswork out of the shopping. This initiative directly sells fruits and vegetables from selected organic farms. With an online order service, brick-and-mortar stores, and a Ripe Market, the urban dwellers of Dubai easily get their hands on local produce.
Food Tech Valley
Food Tech Valley was launched recently in a bid to make Dubai and Abu Dhabi more self-sufficient. This high-tech hub aims to triple the food production of the country. Research and development and innovation play a key role in preparing these two megacities in the desert for the future of food.
Were you inspired by this story? Travel around the world with us and learn how Paris, Singapore, New York, and Utrecht are preparing for the future of food. Also, don't forget to subscribe to our monthly newsletter to stay updated on the latest stories.
Header image: Sudarsan Thobias / Shutterstock.com