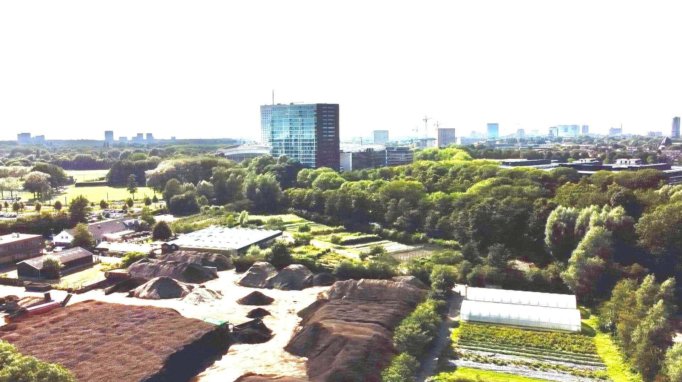 All around the world, cities are faced with challenges to provide urban dwellers with fresh, nutritious and sustainably grown food. Utrecht is no exception, but something's happening in the 4th largest city of the Netherlands: all over the place, initiatives are popping up to show things can be done differently. 
Urban farms, restaurants growing their own vegetables, and waste hubs turning residual streams into new products: everywhere you look, the people of Utrecht are contributing to a different food system. Taken separately, all these initiatives might just seem like a drop in the ocean. But together they are living proof of how to turn a city into a sustainable, edible, waste free and biodiverse place where local communities can thrive. 
Growing healthy food and healthy communities
Space is very scarce in many cities, but this doesn't hold back the urban farmers of Utrecht. Places such as Food for Good, De Moestuin and Koningshof create green lungs in and around the city. They allow residents to enjoy sustainable and local food. "It's healthy and better for our climate", explains founder of De Moestuin Pieter Jagtman. "And it's good for the residents to enjoy sustainable and local food. That way, we can restore the connection with our food."
From bus stops to bee stops
In 2019, the municipality of Utrecht gave its 316 bus stops a green makeover. The roofs are now covered with sedum plants. They contribute to cleaner air, capture rainwater, lower the temperature and promote biodiversity in the city. Three years later, cities all around the world have followed the example of Utrecht. Hamburg in Germany, Pilsen in Czech Republic, Philadelphia in the United States and Tokyo in Japan are amongst the cities that turned their bus stops into bee stops. 
From farm straight to fork
Restaurant The Green House shows how chefs can contribute to a more sustainable world. This restaurant is located in a circular building, where it grows its own vegetables and works with local suppliers for missing ingredients. The chefs use all edible parts of the products, educating and surprising their guests with delicious meals.
Waste free city
The Green House is a state-of-the art example of what a circular restaurant can look like. But other restaurants in Utrecht are contributing too, by partnering up with De Clique. This circular pioneer enables restaurants to polish their kitchens with cleaning products made from their own orange peels, or to serve coffee in cups of their own coffee grounds. Coffee grounds also function as a base to grow oyster mushrooms that then turn into savory snacks. 
"By serving products made from your own residual flows, you have a completely different relationship with what you serve."
Inspiring other cities
Utrecht is an inspiring example for other cities that want to work towards a sustainable food system. The city was one of the first to sign the Milan Urban Food Policy Pact. It also formed part of the "Selected Good Practices" that praised the work of Utrecht in building towards a different food system. Utrecht shows how much is possible when citizens, policy makers and entrepreneurs act together.  
Were you inspired by this story? Find out how New York, Paris and Singapore are transforming too. Make also sure to sign up for our monthly newsletter to never miss out on other stories.