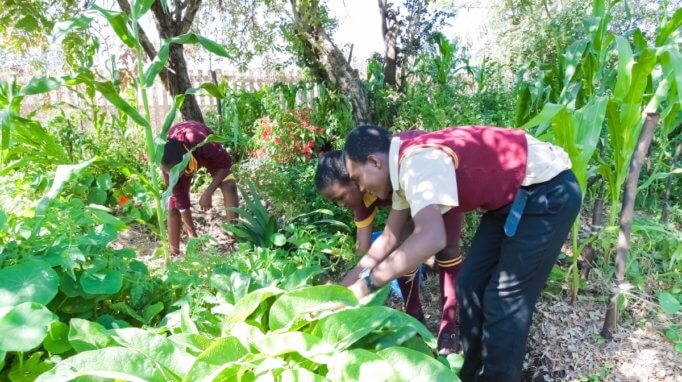 Johannesburg is known as the 'City of Gold', but there's another color that's on the rise: green. All over Joburg, urban farms are sprouting. Meet some of the farmers leading the way towards the future of food in this South-African megacity.
Farming the roofs
Zandile Kumalo is the mastermind behind Neighbour Roots, a rooftop farm located on top of a shopping center in Joburg. Fresh vegetables such as lettuce, spinach and a variety of herbs sprout here and are sold to restaurants located inside the shopping farm as well as in surrounding areas.
Zandile isn't the only one who turned to the roofs of this million-people city. Hops – the key ingredient in beer –  typically can be harvested once a year. Due to environmental factors it's a very uncommon crop to spot in Johannesburg, but former construction engineer Khaya Maloney made it happen anyway: "With hydroponics, because you're dialing in the nutrients directly into the roots of a crop using technology and water filters and everything else, I have managed to have three of four cycles a year meaning I harvest every three months," Maloney told Business Insider.
Also read: Inside Nature Urbaine: the world's largest rooftop that is feeding Paris
Maloney proves that with dedication and the right support, you can become a successful urban farmer. Thanks to a three-month scholarship from the Urban Agriculture Initiative, he gained the experience he needed to kickstart Afrileap and turn it into a thriving business. The Urban Agriculture Initiative was founded to stimulate job creation, provide entrepreneurial opportunity and to increase food security and food resilience by providing urban dwellers in Johannesburg with business opportunities in the farming sector. 
From murder hotspot to thriving urban farm
While Maloney and Kumalo turn to the roofs to feed their fellow urban citizens, the farmers of Lenin Drive Urban Farm keep their feet on the ground. And that ground comes with a story. What's now a thriving urban farm, used to be a dump site and a rape and murder hotspot. The land of Lenin Drive is owned by the city of Joburg, but it's managed by over a dozen individuals and cooperatives, such as the Molobanyane Cooperative. The majority of the farmers at Lenin Drive are women and that's not by accident. The project is an inspiring example of how the hunger, nutrition and gender gap can be bridged when the right tools and opportunities are provided. 
Also read: Fighting hunger, one garden at a time. How grassroots initiatives are transforming slums
African Women in Agriculture
Lenin Drive isn't the only female-powered urban farm. Female farmers are on the rise in Joburg. Organizations such as African Women in Agriculture (AWiA) stimulate and enable women who want to become urban farmers. Through programs such as the Lwazi Agripreneur Incubator, they gain the skills, knowledge, network, and funding it takes to sustainably feed their communities. AWiA member Sibongile Cele switched her corporate career to start the Mcebo Wealth Rooftop Farm. "As much as I am into business, I cannot idly sit by and watch people go hungry", she answers when asked about her motivation to become an urban farmer.
Growing healthy communities
If there's a place in Joburg that's a living example of empowerment, it's the Siyakhana Organic Food Garden. Founded in 2005 by former dentist Michael Rudolph, it's now considered one of the most prominent sites in Johannesburg for an integrated approach to urban food production. What started as a one-hectare food garden, expanded into so much more than that: it's a place to build skills, raise public awareness, stimulate social change, and enable economic sustainability.
The urban farms sprouting all around Johannesburg are showing that a different food system is possible and that cities can provide equal access to healthy, sustainable, and nutritious food, by empowering their own citizens to become part of the change.
Were you inspired by this story? Check out how urban farmers are bringing food justice to New York, how these urban farmers create jobs that leave no one behind and why a harsh climate doesn't hold these farmers back from feeding their communities.
Header image: Sunshine Seeds / Shutterstock.com