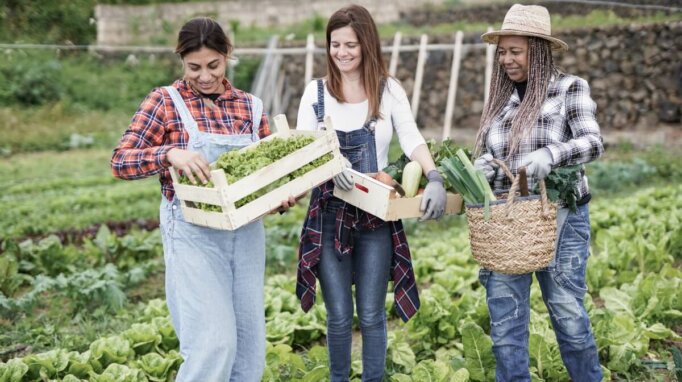 More and more urban food producers are not only focused on providing urban dwellers with fresh, nutritious and sustainable food, but also on creating jobs for people who traditionally suffer from barriers to employment. From veggies grown by adults with autism to homeless people becoming agropreneurs and refugees preventing food waste: meet the urban pioneers that produce with purpose.
1. Greens you can feel good about
Nearly half of 25-year olds with autism in the United States never held a paying job. Yet the daily structure and personal fulfillment of employment is just as essential for individuals with autism as it is for any other adult. At the Greens Do Good urban farm, people with autism plant, seed, water and harvest organic greens that are sold to local community members and restaurants – all at a pace that is tailored to their needs.
2. A place where plants and people grow
Mudlarks Garden in Hertford, United Kingdom, is an inspiring example of how local food production can make a difference for some of the most vulnerable members of our communities. From growing vegetables in the community garden to maintaining gardens of elderly people or preparing and serving local food at the Mudlarks Café, all projects support local people with learning difficulties and mental health issues. Mudlarks Garden enables them to take a full and active role in our community, and lead more fulfilling lives.
3. Zero waste of food and human talent
Although not an urban farm,  Trash'ure Taarten in Nijmegen, The Netherlands, couldn't be left out of this list. there's no space for food waste. At this award-winning bakery, there is no space for food waste. There is space for human talent though. Refugees – suffering the highest unemployment rates in the entire country – turn rescued fruit and vegetables into delicious sweet and savory pastries.
4. Cultivating hope for the homeless
In Kuala Lumpur, Malaysia's capital, hope for the homeless is cultivated at the Anjung Kelana transformation centre. The 'Hijrah Warrior' urban farm project teaches homeless urban citizens how to grow and harvest crops such as cucumbers, kangkung, okra and corn. After a successful training, the brand new agropreneurs are provided with land to cultivate, so they can become independent, earn a living and inspire others to follow their path.
5. Small spaces with a big impact
Lilian Nakigozi proves that even in small spaces you can make a big impact. Women and girls living in urban slums in Uganda are landless and have limited space to grow food. Women Smiles Uganda empowers them through vertical farming, composting and financial education. By linking the vertical farmers directly to markets, they can sell their surplus of their produce for alternative livelihood.
6. Growing communities
De Moestuin' in Utrecht holds an organic vegetable garden, a carpentry workshop, a shop, and a lunch café. The fruit and vegetables grown here are a tool for cultivating community and empowerment: 70 people with a distance to the labor market are employed at this urban farm in the 4th largest city of The Netherlands.
7. From murder hotspot to thriving urban farm
The Lenin Drive garden in Johannesburg, South Africa, was once a dumpsite and a rape and murder hotspot, but is now a thriving community garden. Curly kale, spring onions, carrots, spinach, cabbage and many other vegetables are cultivated by local women.
8. A farm powered by forgotten workforces
At the urban hydroponic farms of Vertical Harvest, people with mental and/or physical disabilities produce fresh, local food year-round. Even in an area that's iced over for most of the year! An inspiring example of how cities can tackle both job and food insecurity at once.
Do the stories of these urban food pioneers inspire you to start your own initiative? Find out how to kickstart your own food forest or farm. Or sign up for our monthly newsletter for the best sustainable food stories delivered straight to your inbox.
Header image: Sabrina Bracher / Shutterstock.com