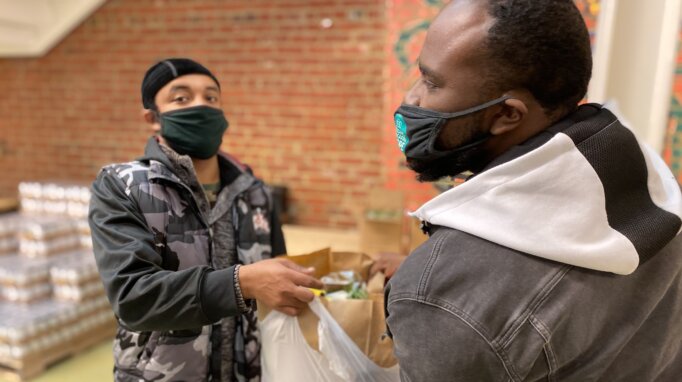 Many people in low-income urban communities do not have access to fresh and nutritious food. This does not only have a detrimental effect on their physical and mental wellbeing, it also adds another disparity to the ever-growing gap between rich and poor. By redistributing surplus produce and growing healthy food in cities, these organizations are tackling food insecurity, one community at a time.
For the past 25 years, George Jones has been working as the CEO of Bread for the City; a non-profit that provides community members near the federal poverty line in Washington DC with access to food, clothing, medical care and legal services. In addition, the organization is trying to put a stop to the systemic racism underlying disparities.
When it comes down to the challenges residents of Washington DC face, many of them are food related. "Hunger has always been a real problem in low-income communities", George explains. "Between 100.000 and 150.000 people in our city are food insecure, meaning that on any given day they struggle to provide three square meals for their families. The physical toll malnourishment takes on people is a critical problem within itself. But also, residents often have to choose between paying for food or paying for other basic needs, such as housing. So the implications of food insecurity are multifold."
Many believe that people who live in low-income communities do not want to eat fresh and nutritious food. We found that to be completely untrue. In fact, the more fresh produce we put into our bags, the happier people are. – George Jones
Food pantries
To provide people in need with nutritious and fresh produce, Bread for the City runs multiple food pantries that thousands of households visit. "Families can come in once a month for a five-day supply of groceries", George tells. "The food comes from Feeding America; a non-profit that reclaims and redistributes food that would have otherwise gone to waste."
If you target communities where people are disadvantaged and resources are limited, a universal benefit arises from giving them what they need. Because when other community members thrive, so will the rest of the city. – George Jones
Tackling hunger and food waste
Another organization that is putting a stop to both hunger and food waste is City Harvest. In 1982, a group of New Yorkers noticed a large group of residents struggled to feed themselves and their families despite an abundance of excess food. Today, City Harvest is New York City's largest food rescue organization, helping to feed over 1,5 million New Yorkers by rescuing 144 million pounds of food every single year. All to strengthen the local food system and build a path to a food-secure future for all New Yorkers.
Bringing local food production back to the city
In addition to redistributing surplus food within cities, growing fresh produce in urban areas is a highly effective way to reconnect people to healthy food and put a stop to food deserts. This is exactly what Recovery Park is doing. With their large-scale indoor farms, the Detroit-based social enterprise grows fresh produce for the neighborhood whilst creating jobs for the available local workforce. Veterans, recovering addicts and former prisoners are all welcome to apply. In doing so, Recovery Park shows that local urban agriculture does not only boost the wellbeing of people, but of entire communities, and makes the world a more sustainable and equitable place.
Ready to discover the other benefits of food producing cities? Watch our documentary 'Sustainable Urban Delta; The city and the green belt'.
Source header image: Bread for the City