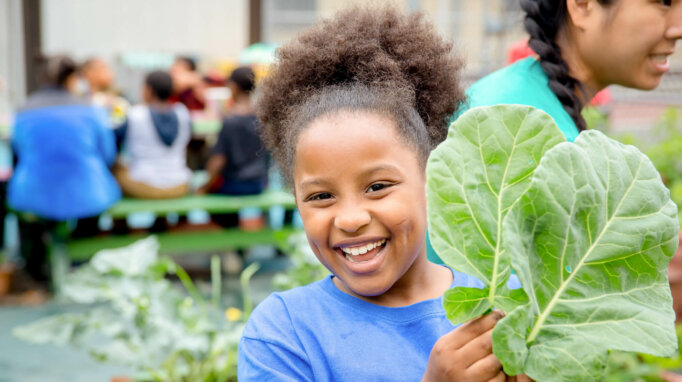 Edible Schoolyard NYC is revolutionizing urban landscapes and shaping young minds through the power of edible education, creating a sustainable and healthier future for our cities.
Recently, we had the privilege of visiting the Edible Schoolyard NYC at PS 216 in Gravesend, Brooklyn. We witnessed firsthand the transformative work being done there and interviewed Shannon Morris, the Executive Director of Edible Schoolyard NYC, as well as Amale Andraos and Dan Wood, the principal architects from WORKac. Watch the video below.
The once concrete-laden parking lot of a public school has been transformed into a vibrant, organic edible garden, complete with a kitchen classroom. This is the work of Edible Schoolyard NYC, an initiative that is not only changing landscapes but also the way children perceive and interact with food.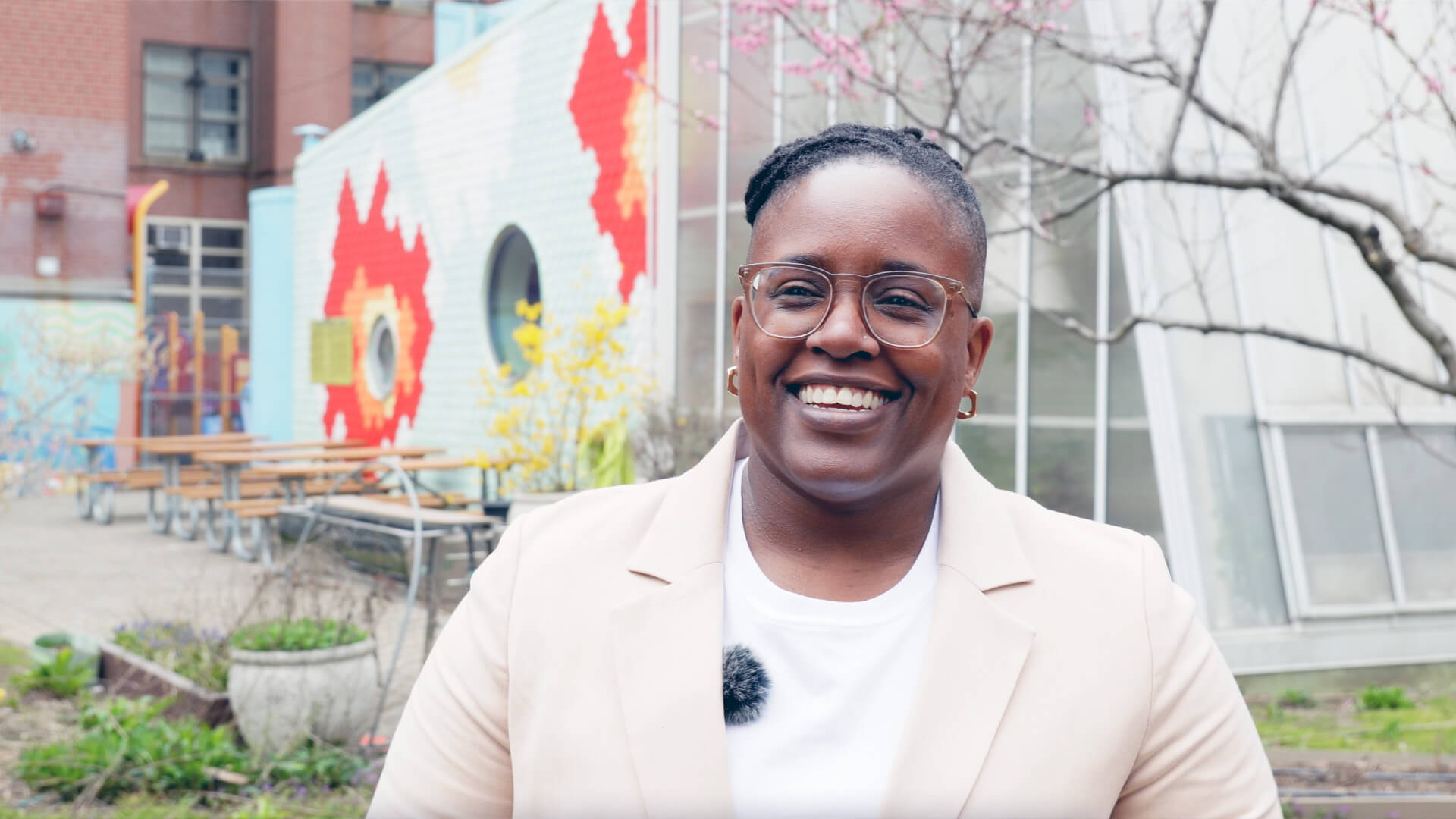 Magic Happens Here
Shannon Morris describes the project as a place where "magic happens". Children from the school are given the opportunity to immerse themselves in the garden, to learn about the food system, and to actively participate in it.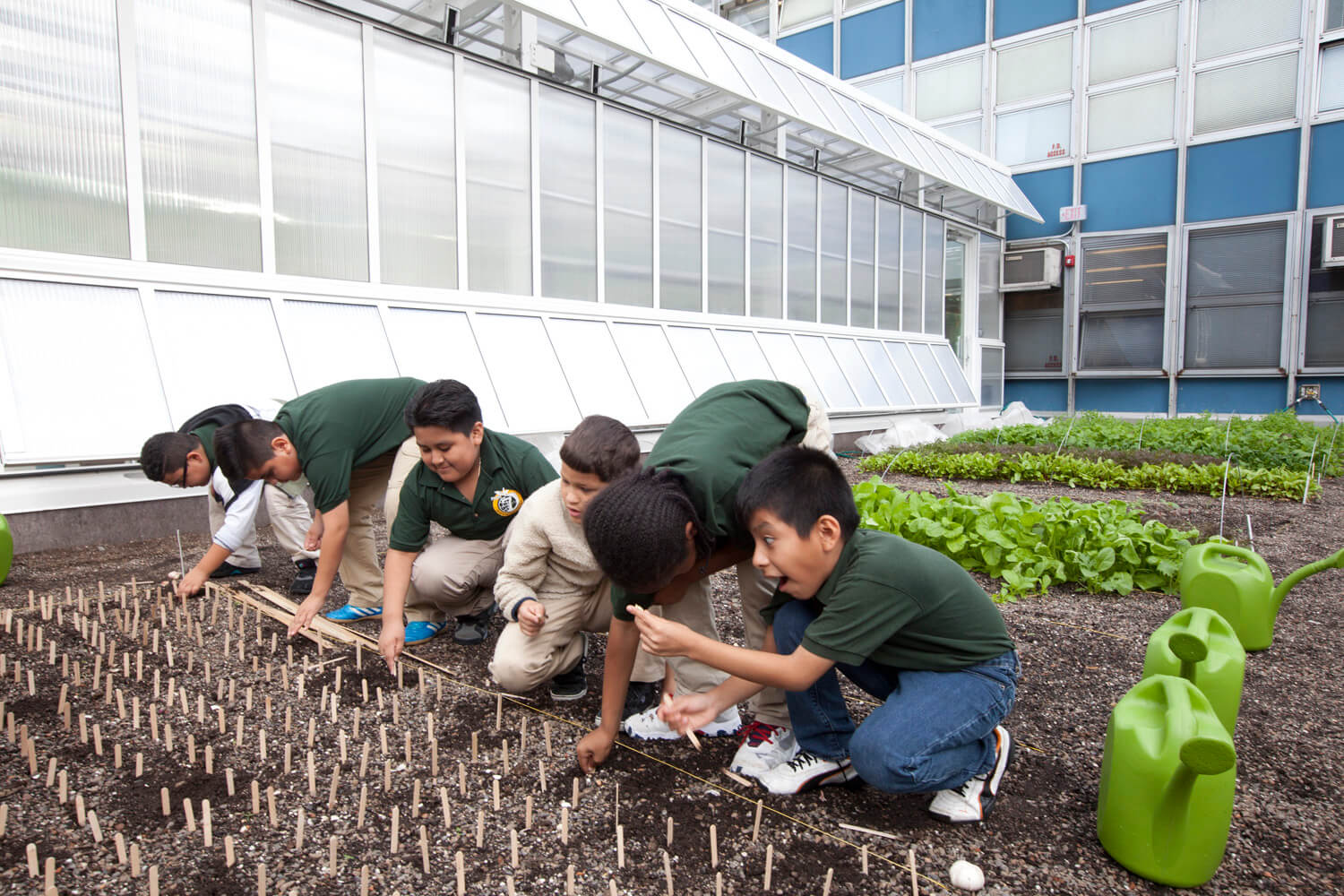 They get to put their hands in the dirt, learn where their food comes from, and understand the processes of composting, seeding, harvesting, and nurturing.
"Children that come right outside of that school and they have a chance to jump into the garden. Kids are able to jump into our kitchen, make recipes together, talk about the food system, and they're part of it and their part in the food system and then come outside and actually put their hands to work, put their hands right in the dirt to learn where their food comes from to compost to seed to harvest to water to nurture." – Shannon Morris
Architectural learning tool
The transformation of the parking lot into an organic edible garden was a dream come true for Amale Andraos and Dan Wood. Their design for the Edible Schoolyard NYC is an architectural learning tool that engages a child's sense of curiosity through material and form. This innovative design has won several awards, further validating the impact and importance of this initiative.
We were lucky to transform a parking lot into an organic edible garden with a kitchen classroom. It was like a dream come true, actually. – Amale Andraos, WORKac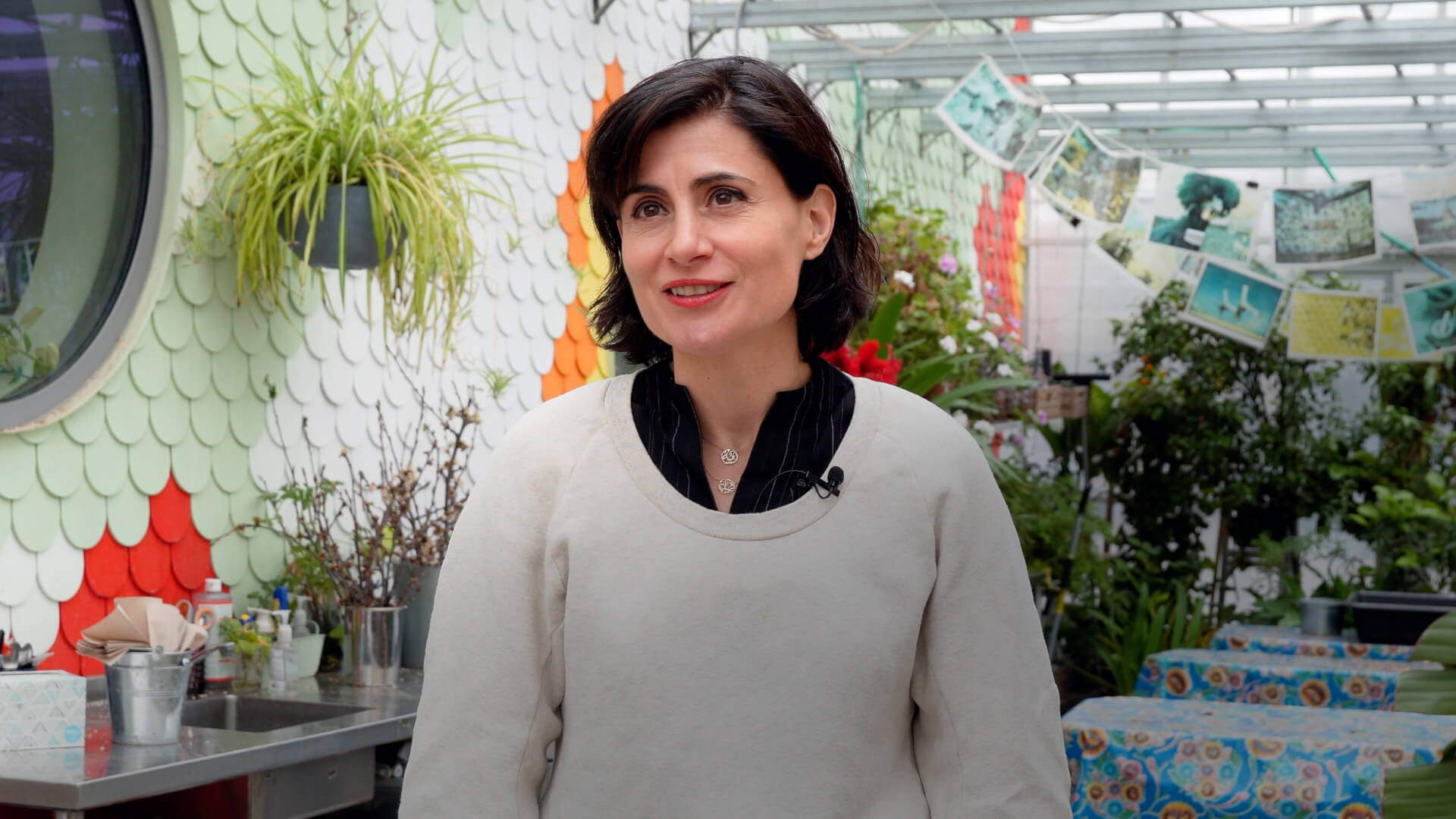 Edible Education
Edible education is an innovative approach that layers food, cooking, and growing food on top of the existing curriculum. It's a hands-on, practical way of learning that engages students in a unique way. Whether it's studying math through measurements in recipes, understanding fertilization in science, or planting the same kinds of vegetables that Native Americans would have planted in history class, edible education brings learning to life.
What edible education does is layer food, cooking and growing food on top of existing curriculum. – Shannon Morris
Early Education on Food
Educating children at a young age about where their food comes from, how to grow it, and what constitutes a healthy diet is crucial. It not only equips them with valuable life skills but also fosters a sense of responsibility towards their own health and the environment. By understanding the journey of food from seed to plate, children can develop a deep appreciation for nature and the effort that goes into producing each meal.
The Impact of Edible Schoolyard NYC
The Edible Schoolyard NYC has already made a significant impact on the lives of students, families, and educators. The program has reached 3,500 students across 10 schools in Brooklyn, Manhattan, and the Bronx, and has conducted 2,178 kitchen and garden lessons. The initiative has also distributed 12,997 food items to students and families and harvested 2,878 pounds of produce from school gardens.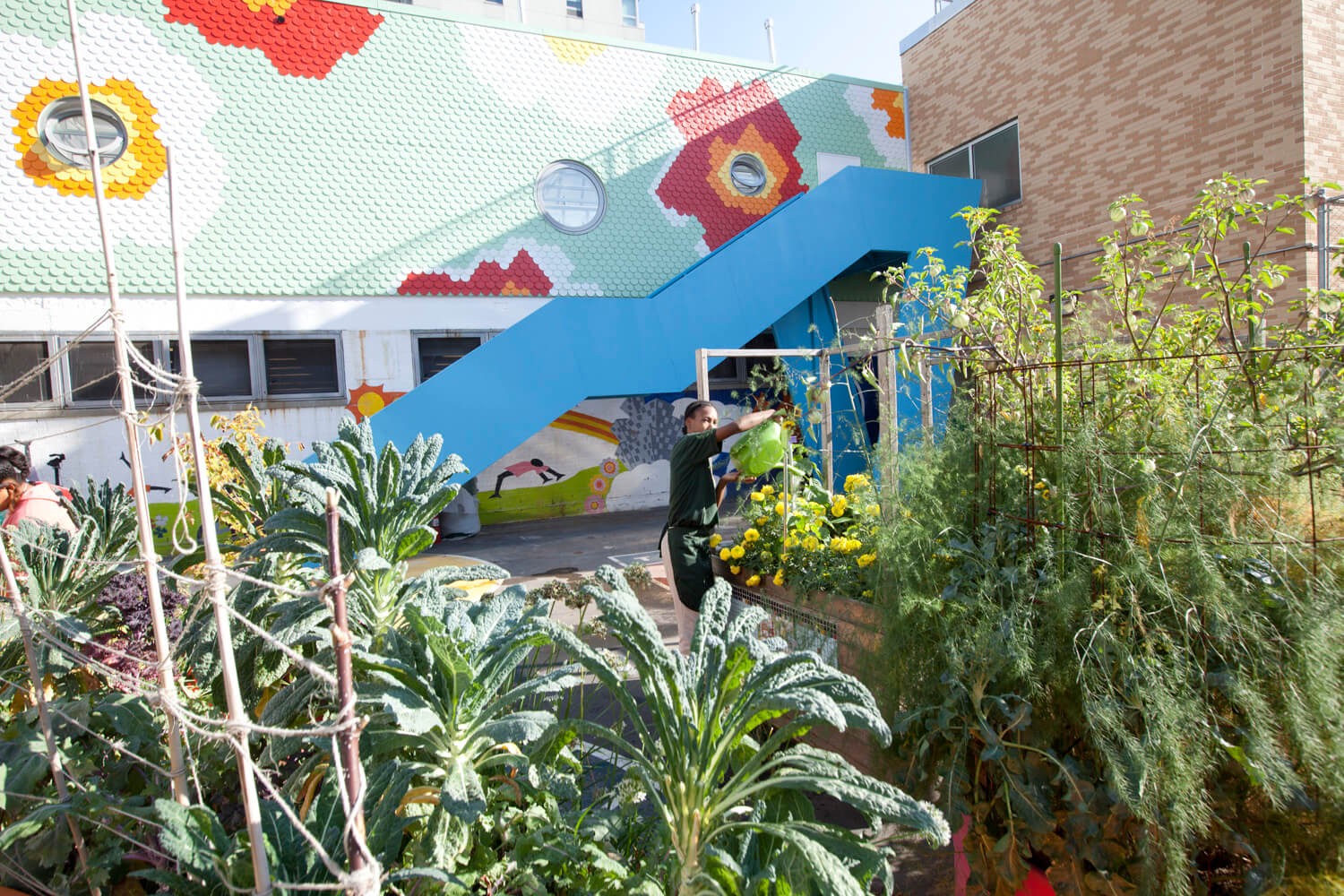 The impact goes beyond numbers. Teachers report that students are making academic connections between Edible Schoolyard NYC lessons and core classes, and parents report that the program is shifting students' relationship with food. Students are more mindful about their food choices, more adventurous about trying new foods, and applying the lessons they learn at home.
It really has the possibility to transform kids at a very young age and really change the way they think about food and about gardens and nature and being outside and education. – Shannon Morris
At Sustainable Urban Delta, we are deeply committed to transforming urban environments into food-producing communities. We firmly believe that integrating food production into urban areas can address social, ecological, and economic challenges. The transformation of the parking lot into an edible garden by Edible Schoolyard NYC perfectly embodies our vision and mission. It shows the power of urban agriculture and the potential it holds for creating sustainable, resilient cities.
Join the Urban Agriculture Movement
If you're inspired by this story and want to delve deeper into the world of urban agriculture in NYC, we invite you to explore more of our exclusive reports about NYC.
Discover how Qiana Mickie, Director of Urban Agriculture at the NYC Mayor's Office, is building a resilient and equitable NYC through urban farming in our feature article. Learn about the pioneering vision of the Chief Impact Officer at NYC's Brooklyn Grange Farm, who is transforming rooftops into spaces for food justice in this insightful piece.
Or read all about Sheryll Durrant, the dynamic Board President of Just Food, who is spearheading an urban ag revolution in New York City. She combats the pervasive issue of food apartheid through the cultivation of community gardens, fostering a sense of unity, empowerment, and resilience among New Yorkers.