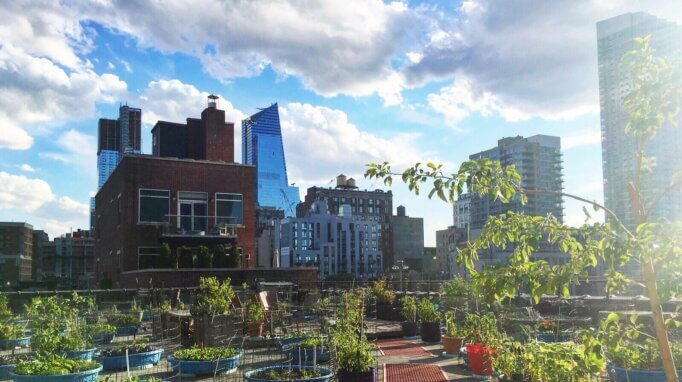 Laws matter. When it comes to urban food production, rules and regulations are needed to prevent pollution, nuisance and to guarantee food safety. But some policies are unnecessarily slowing us down in a transition towards a sustainable food system, while others act as a catalyst for change. From lifting bans on growing vegetables in your own front yard to bylaws making green roofs mandatory, these cities are showing how it can be done.
The right to grow
Believe it or not, in some cities, it might be illegal to grow your own food. Even when it wasn't for decades. Hermine Ricketts and Tom Carroll from Miami Shores, Florida, USA were forced to rip up their front yard vegetable garden they had been cultivating for seventeen years when a new village zoning ordinance dictated what residents could plant on their property. Vegetable gardens were relegated to back yards, which in the case of this Florida couple was too shady to enable any growth. 
Determined to get back the right to grow their own tomatoes, spinach, kale, and eggplants, Hermine and Tom didn't go down without a fight. After a six-year-long legal battle, a statewide law went into effect that nullified local bans on front yard vegetable gardens. 
Farming in the city
The power and importance of institutional and legal support are also illustrated in cities like Nairobi. In 2015, the Nairobi City County government developed and implemented the Urban Agriculture Promotion and Regulation Act. The act acknowledges the potential of urban agriculture for food and nutrition security. It provides regulation on land and water access, food safety, environmental conservation, and organic waste management; and includes standards for urban agriculture. These types of regulatory frameworks enable megacities such as Nairobi to transition towards a sustainable and inclusive food system.
Related: Fighting hunger, one garden at the time. How grassroots initiatives are transforming slums
Turning cities into urban orchards
Interest in foraging is on the rise and policymakers are faced with both opportunities as well as challenges. In Epping Forest, located on the edge of London, commercial foraging groups harvesting huge numbers of fungi threaten the biodiversity of the forest. In order to protect the ecosystem, foraging in Epping Forest is not allowed.
Copenhagen is taking a different approach. Denmark's laws dating from the middle ages permit citizens to harvest food from public lands. The only restriction is you cannot forage more than you can fit in a hat. With platforms such as Vild Mad urban dwellers are educated about the edible plants close to their own homes. And plans have been announced by local governments to plant public fruit trees, accessible to all citizens to pick.
Related: 10 incredible urban food forests that are turning cities into food producing oases
In New York City foraging laws sparked creativity. Growing or picking food on New York's public land has been illegal for almost a century for fear that foragers could destroy ecosystems. That's why Mary Mattingly decided to start a food forest on a barge, utilizing marine common law to make her floating food forest legally and publicly accessible.
Green roofs
Local governments worldwide have been promoting green roofs through incentives such as subsidies. Several cities, however, are taking it to the next level. Basel in Switzerland became the first city to make green spaces a legal requirement for new buildings. Today, it has more than 1 million square meters of green roofs.  
A similar bylaw is requiring new buildings in Toronto, Canada, to include between 20-60% of green roof spaces. The Eco-Roof Incentive Program that has been running since 2009, has resulted in over 450 thousand square meters of green roofs. Amongst the annual benefits are 11 million liters of stormwater diverted from sewers, urban heat island mitigation, biodiversity enhancement, and job creation.
Related: Growing food to cool down the city: this is how urban agriculture improves climate resilience
Although not all green roofs are food-producing farms, such as this one in Paris, France, or this one in Rotterdam, the Netherlands, their importance for the liveability of our cities is clear. So is the role that policies can play in shaping a sustainable future.
If you are inspired by these stories and want to make a difference in your own city, find out more on how to get involved here and make sure to sign up for our monthly newsletter for the latest updates on the future of food and the city.